All posts in this series:
Conferring with the enemy (Part 1): A credit card for a travel plan
I feel a bit unclean.
I'm often in a tough spot because of contradictory interests:
I believe that people have a duty to themselves to get their financial house in order, and one of the components of this is eliminating debt.
I also believe that travel is an integral part of one's own personal development, and many of the methods that make travel easier involve credit cards.
These conflict spectacularly, and I generally find myself not fitting into either the financial advisory or travel hacker realms because of it.
Well, screw it. Life is conflicting. If you want dogma, this isn't the right place. And you're just not going to find the same advice here that you do anywhere else.
And so I found myself recently applying for a credit card in order get a boatload of bonus airline miles. Or, as it feels, conferring with the enemy. Here's why:
Two countries separated by a lot of fish
Getting to England from the US can be expensive. When you're coming from the Left Coast, even more so. Add in peak travel times like summer, and it can get ridiculous.
Here's a snapshot of Kayak's output from Portland to London (with a few other airports thrown in):
Now, while I could technically spend that kind of money, it's not really allocated for those purposes, and at any rate, I'd love to see if I could make things less expensive.
I'll save the purpose of this trip for another post (though I'm really excited to tell you about it) but my constraints were:
Dates were effectively fixed (mid-August to early September)
Destination would need to be somewhere in the vicinity of London.
Now, I have family back east, so I thought that maybe if I could get a cheap repositioning flight there, I could have more flexibility in my jump across the pond.
My plan had begun.
Luck of the Irish
And of course, let's talk frequent flyer miles.
Most airlines charge between 50,000 to 60,000 miles to get from the US to Europe and back again, at least in coach. (And I think international coach is the best redemption for most people.)
British Airways is an exception here, in that their award chart is distance-based and not zone-based. So it's actually more miles to go from New York to London than it is to go from LA to London, whereas with United or American, it's exactly the same.
Here's the British Airways award chart:
If we could just find a flight that was under 3,000 miles, we could get between the US and Europe for only 25,000 miles round trip!
Indeed, we can:
Boston, meet Dublin. Sneaking in at 2,993 miles.
Boston to Dublin is flown by Aer Lingus, the Irish national carrier, which happens to be a partner of British Airways.
TL;DR: It takes only 25,000 British Airways miles to get to England from the US if you fly from Boston to Dublin on Aer Lingus. Now that's lucky.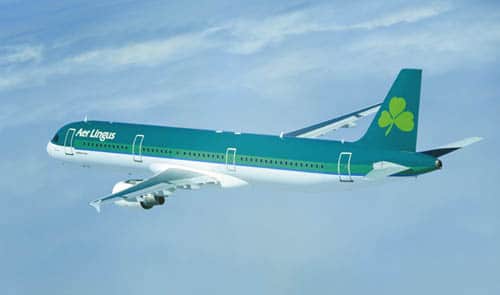 Zero to 25,000
Sounds good, but as of this year, my balance of British Airways miles (known as "Avios") was a whopping zero.
At the same time, I received a notice that the British Airways credit card was offering 50,000 miles after spending $2,000 in 3 months. And even more, it was being offered with no annual fee.
And this is where the conflict begins. If I signed up for this card and jumped through all the necessary hoops, I could have more than enough miles for the round trip from Boston to Dublin. And I wouldn't have to pay an annual fee (I would get the card and cancel it before the year was out).
But on the other hand, it would mean that I would have to violate some of my usual tenets about credit cards. Viz:
The best credit card is the one you don't have.
The next best credit card is the one you keep in a drawer (as in, don't carry around with you).
And yet, here I was about to do just this. How could I rationalize it?
Rationalizations
I came up with a fair number of rationalizations that put my mind a little bit more at ease.
I had one specific goal in mind, which was to gain enough miles to book an award ticket to Europe. Once this goal was obtained, it would be business as usual. And card canceled.
The goal had simple processes to execute. I needed to do two things: get the card and then spend $2,000 on it in 3 months. That's it.
The goal was time-boxed. Given the timing constraints, there was a limited time in which to accomplish this goal, so it wouldn't take up my entire year.
The goal was mostly low-risk. The biggest risks seemed to be the pressure to spend more than I would otherwise, or that it would all come to naught and I wouldn't even get the miles. So certainly not no-risk, but not high risk either.
There were no direct up-front costs. The card usually has a $95 annual fee, but this was waived for the first year.
I had some big expenses coming up. Specifically, I was traveling for some work projects, so I could put all those expenses on the card, thus eliminating much of the need to shift any personal spending.
I wouldn't charge any money I didn't have. I would not be running any sort of balance.
It would be a learning experience. Hard to put a value on this, but I wanted to see if my goal and my rationalizations could sync up properly, and if not, what would I learn?
And so, having over-thought this through, I pulled the trigger, applying for the card and being approved without any trouble. (I don't worry about my credit score, and you shouldn't either.)
Stay tuned to hear about what happens next.
What do you think? Have I gone too far here? Will my comeuppance be far away?