All posts in this series:
Conferring with the enemy (Part 4): Redeeming British Airways miles from Boston to Dublin
So after having received my bonus of 50,000 miles, it was time to redeem them. This was the reward, the whole purpose of this ordeal.
My plan remained: Redeem miles for a round trip ticket from Boston to Dublin for 25,000 British Airways miles, flying on Aer Lingus. Why Boston and not New York or Philly? Because the flight is short enough that it just barely qualifies for being 25,000 miles. If the flight were seven miles longer, the miles would jump from 25,000 to 40,000.
And why Dublin? Because it's going to be my new country for the year.
And why Aer Lingus and not British Airways? Because British Airways charges crazy amounts of taxes (erroneously called "fuel surcharges") and Aer Lingus doesn't, while you can still use British Airways miles (called "Avios").
Since the flight needed to be direct for the deal to work, I figured this would be a relatively simple process, unlike when I went to Asia.
Or so I hoped.
Finding award availability
Strangely, the easiest (and free) way to find award availability on Aer Lingus is to use United's website.
So go to united.com, and fill out the form on the front page with the following:
One Way
From: Boston, MA (BOS)
To: Dublin, Ireland (DUB)
Search Specific Dates
Depart Date: <Your desired date>
Search by: Award Travel
Nonstop flights only
Leave everything else as the defaults.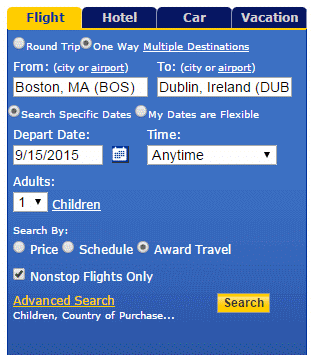 Some notes:
Even if you want to book a round trip, you want to search one way at a time, as it'll just be easier.
And even if your dates are flexible, you want to search one specific day at a time, as it will help prioritize the specific award availability. It takes more time, but you'll get better results.
And the key here is "Nonstop flights only", otherwise, United will prioritize United flights. Which is understandable, but not what we want.
After you click Search, the first thing you'll probably notice is that you'll get an error that says "There are no nonstop flights available for this destination."

And what you'll see below are award flights with stopovers, most likely on United (you can tell because the Flight number will be UA___, when we want EI___ for Aer Lingus.)
Now, there is a calendar at top where you can try another date, but if you click another date, note that United will continue to show you flights with stopovers. If you want to hide those, scroll down to the bottom, check the "Nonstop Flights Only" box, change the date manually, and try again.

Eventually you will find a date with availability.
On the left it shows whether Economy or Business Class is available. In the screen grab below, only Economy is available (which is pretty typical).

But it's a flight! And it's operated by Aer Lingus (flight EI138).
From there, you can call British Airways (800-247-9297, to save you digging) and ask them to book the flight for you. (You can't do it online.) I was warned that hold times on that line were incredible, but I never experienced any issues. Granted, I called late at night, so maybe that had something to do with it, but just be warned.
Is this all there is?
The biggest bummer about award travel is that award availability is pretty scant, especially during peak times. You can't just pick a day and go.
That said, take heart: there may be greater availability than what you can find!
Which leads me to my story.
My experience
I found a single flight from BOS-DUB that could work, but it was a day later than I wanted to be there.
The way home was much worse. There was basically nothing the entire week I was planning to come home.
So I called British Airways, and over a number of phone calls I spoke to a number of very helpful agents with delightful British Isles accents. And I'll be darned: there were at least three extra flights that I couldn't find by searching united.com! While on the phone, I double-checked my search, but this was clearly something the agent knew about that I didn't.
No matter: I'd rather the agent have more availability than less! So I went with the outbound flight I had found, and picked one of the return flights the agent listed for me. The dates weren't perfect, but they would do.
The breakdown
My outbound flight cost 12,500 miles and $34 in taxes.
My return flight cost 12,500 miles and $82 in taxes.
Total: 25,000 miles and $116.
(While the taxes may seem steep, if I had flown on British Airways, the taxes could have been hundreds of dollars more!)
Now, checking Kayak, I find that flights are going for about $850. This means that we can do the math: ($850 – $116) / 25,000 miles = 2.9 cents per mile (2.9 cpm).
Almost 3 cpm! That's a fantastic deal. And even if you factor in that I probably spent about $100 extra because of the credit card, that still comes out to 2.5cpm. And I still have 25,000 miles left over.
Mission accomplished. I'm off to Ireland, and beyond.
Epilogue
One thing I haven't mentioned in this series is: Why am I going on this trip when I am? What's the plan?
That's a great story that I'm excited to tell you, but we'll have to wait on that. Stay tuned, because it's a good one.