Continuing education
This class is for therapists and other mental health practitioners and will earn 3 CE hours.
Attendees will gain a basic understanding of the most common financial topics that may arise in client sessions, such as managing debts, budgeting, and planning for retirement, as well as understanding the different types of financial professionals.
You will leave this class feeling more confident and empowered to help your clients make positive money decisions. (And you too!)
If you have questions about this class, please send me a note. Looking forward to seeing you!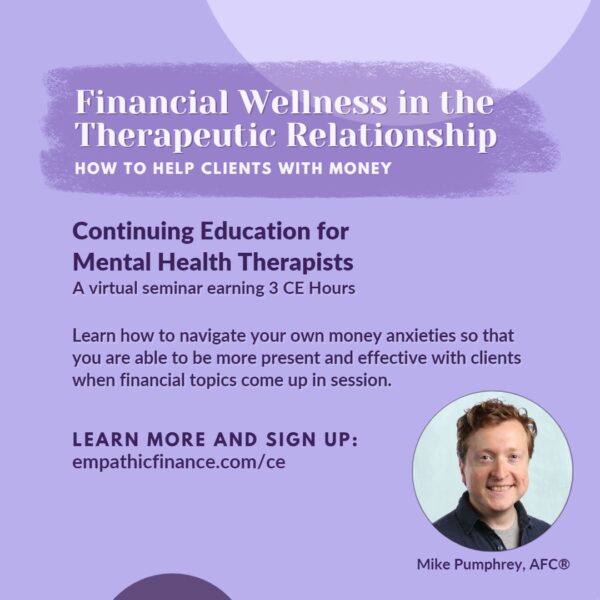 Most recent class:
Friday, September 8, 2023
11AM-2PM Pacific Time
Virtual event (Zoom)
3 CE hours
NBCC Approval No: SP-4315
Price per attendee: $95
"Mike is very knowledgeable, not only about the financial world but also in understanding what makes people act they way they do! I really appreciate this training being available, and is invaluable, as we don't talk about money enough with our clients!"
What does the class consist of?
We will do group reflection, personal reflection, and small-group role play. You will be encouraged to bring stories from your own practice, and questions for both me and your fellow classmates. The goal here is to learn from each other, and learn skills that you can take away immediately. Active participation is strongly encouraged!
I'm not a therapist. Can I still take this class?
Of course! Anyone is welcome to attend. We will be focusing on the therapeutic relationship, but there are money lessons in there that everyone can benefit from.
How will I earn CE hours?
Upon successful completion of the class, you will receive a certificate of completion, which you can use when you submit your hours for consideration.
Are you really certified to offer continuing education hours?
Yes! I have been approved by the National Board for Certified Counselors (NBCC) for this class to offer 3 CE hours. My approval number is SP-4315.
Will this class be recorded?
For confidentiality reasons, classes will not be recorded. You are welcome to take notes in class though.
When will the class be held next?
This class will be offered on multiple upcoming occasions. If you want to be notified when new classes are announced, please fill out the form below to get on the waitlist.
General Refund/Cancellation Policy: Full refunds are available for cancellations up to one week before the program date. For cancellations within one week of the program date, no refund will be given.
Complaints/Grievances Policy: I seek to ensure equitable treatment of every person and to resolve grievances in a fair and timely manner. If a participant or potential participant would like to express a concern about their experience with my class or with me, they may email me at mike@empathicfinance.com. Although I cannot guarantee a particular outcome, the individual can expect me to consider the complaint, make any necessary decisions, and respond within 3 business days.