In my last post I talked about how my mom and I were going to Europe together. Specifically London, although we threw in Paris at the last moment. It's a really exciting time.
For me, one of the best parts of travel is the planning of it. Flights, trains, hotels, etc. I know that some people would rather stand on broken glass than plan travel, and that's okay by me. But even if you're that way, perhaps you might enjoy hearing about the plan that we made. It might even give you some ideas about how to plan some trips of your own.
So, in case it's not obvious, a goal of travel planning is to get the best possible experience for the least amount of money. That sweet spot will be different for everyone, of course, but it's still a good goal.
Mom's flight
Mom lives in Philadelphia, a hub for US Airways. US Airways flies direct to London and Paris from Philadelphia, so this was a very easy logistical proposition. I wouldn't have to do anything crazy. In fact, I could just book the flight on line.
Actually, I couldn't, because open-jaw itineraries (named for the way that the flight looks on the map) required you to call in to the reservation desk. But it wasn't a difficult process.
US to Europe on US Airways is 60,000 miles plus nominal taxes. Easy.
My flights: Crossing the country
My flights, you'll be not shocked to note, were more complex.
Not only was this because I had farther to travel (coming from Portland) but because of the constraints I placed on myself.
One of those constraints was that I wanted to head to Philadelphia before I left the country. This was because I wanted to check in with Mom, mainly for team building purposes, but also to make sure that she was all ready for the trip. I wanted us to connect before going, since I wouldn't be traveling with them across the Atlantic.
Getting from Portland to Philadelphia in August can be expensive, and award travel almost impossible to come by. It made the most sense to just outright buy the ticket, for a little over $300 one way. (Good thing I did this a few months in advance, because close in, the price rose to over $700!)
My flights: Crossing the Atlantic
Remember how I talked about getting from Boston to Dublin on Aer Lingus?
This was why. I used this trip as an excuse to try out the Aer Lingus trick, and to see a new country as well.
My flights: Getting to Boston
But I still needed to get to Boston.
My first thought was Bolt Bus, the super cheap "Chinatown"-like bus service that operates in the Northeast. I've taken Bolt Bus before, and have had good experiences.
Unfortunately, the service doesn't operate direct from Philly to Boston on the date that I would travel.
Looking at other cheap options such as Mega Bus and Greyhound, they all involved inopportune travel times or a transfer in New York City, something I can't tell you how much I didn't want.
I was reluctant, but I ended up buying a flight from Philly to Boston on one of US Airways' frequent shuttles. It was less than $100, which wasn't as good as the $20 as it would have been on the bus, but it was much faster. Besides, would I really want to spend all day on a bus, only to spend all night on a plane? Starting the trip exhausted isn't the best move.
My flights: From Dublin to London
One other constraint I had was that I wanted to get to London one day before Mom did. This was because of jet lag, which I knew to be horrendous across the Atlantic. I wanted to have gotten over the worst of it when they arrived, so I could be the awake and alert member of the group.
So I would arrive in Dublin a day before, and then head to London.
With the British Airways miles I had acquired from conferring with the enemy, I had only used half of them. And since Dublin to London was such a short distance, using British Airways miles would only cost 4,500. Plus a few dollars in taxes. That seemed worth it.
My flights: Back to Dublin
Getting back to Dublin from Paris was a little more complex, because even with using British Airways miles (4,500 again), the cost was upwards of $100 in taxes. The cost outright was only $200. I hesitated, wondering how much these miles were worth.
Eventually I went with the miles option, because these flights were adding up, and the miles were meant to be used on this trip anyway. I didn't see a need to horde them.
My flights: Getting home
This left getting from Boston to Portland. Home again.
For some unknown reason, flights from Boston to Portland on Alaska were ridiculously cheap on the date I wanted to go: $130. This was the easiest choice to make.
With that, here is my flight itinerary: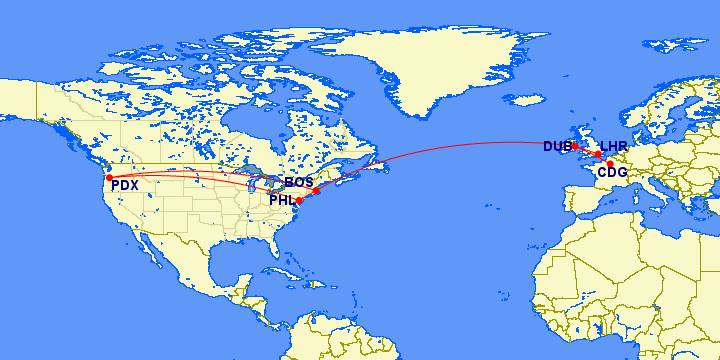 The total cost was around $700 and 34,000 frequent flyer miles.
If this itinerary had been paid in cash, it would have easily cost three times that. Not a bad deal.
So I hope this gives you some insight into the thought process behind the trip planning that I do. If you have any questions about the process, or are trying to book a trip of your own and need some help, let me know!