If you're most people, you have a single checking account that you use as your primary reserve of money. (If you don't have a checking account and live out of the contents of a cookie jar, that's a little extreme, but ultimately the same thing.) You get paid, and your balance spikes. Then you start paying bills and living, and the balances slowly goes down. Then the cycle repeats, on whatever repeating schedule you get paid.
People talk about how much money you should have in savings, and the importance of allocating every dollar that you earn to a purpose. These are all important topics, but I don't often hear about how much you should have in your checking account to begin with. This seems like a fairly big oversight. So let's talk about it.
Keeping afloat
I call the money in your account that is above and beyond your paychecks "float."
Here's an example of float, and why it's important. Let's say you make $2,000 a month, and get paid on the first of the month. If when the month starts, you have $1,000 of float in your account, then when you get paid, you'll have $3,000. You pay your bills and spend as you have budgeted, and at the end of the month, you have $1,000. The end amount is the same as the beginning, as it should be in a proper.
Now what happens if you have $0 float. You start out on day one at $2,000 as before, but with no float you better hope that you don't have any deviation from your plan. Assuming you've allocated your money completely, you will have $0 at the end of the month (otherwise you didn't allocate your money completely). If you go over by $0.01, you will get charged one of the many fees that banks like to charge those who aren't paying attention. Don't let them do this.
Float is even more important when you get paid more than once a month. Let's say you make $1,000 twice a month, and let's say your rent/mortgage is $800. By this scenario, you have $200 in your account on the second day of the month, before you've paid any other bills, or lived at all. Does that seem like a viable plan? Of course not. If you had float, this wouldn't be an issue.
Shallow water, no diving
Here's why I call this money "float." Picture a pool that you're about to dive into. You represent your bills and your spending. The amount of water in the pool represents the float. When you dive in, you want to make sure that you have enough water in the pool to account for a slightly deeper-than-expected dive. If you have just enough water in the pool so that your head just touches the bottom of the pool, can you see some problems with that plan?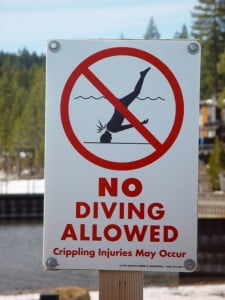 I would say that it's more urgent to have float in your account than it is even to have a separate savings account. Because if you run out of money mid-month and have no float, you will be charged penalties. And then you'll have even less. Watch your head.
But enough about me. Do you keep a float in your account?