I was at a party recently where the conversation turned to travel. One person in particular was trying to get to a destination (somewhere in South America, I forget the specific city) the following month, and wanted to know how they could do it for cheap, possibly using frequent flyer miles.
Well, they could start planning sooner than a month before, is the response I wanted to say but didn't.
But let's say that you wanted to find a way to get somewhere (say, Belize) and you wanted to find a way there without having to pay full price. Which, after all, is one of the benefits of travel hacking. How do you do it?
Start in advance
It's not exactly a shock to say that airfare goes up as the date approaches. Sometimes the prices fluctuate, but nearly as much as they used to.
So in general, if you know when you want to go: book as far in advance as possible.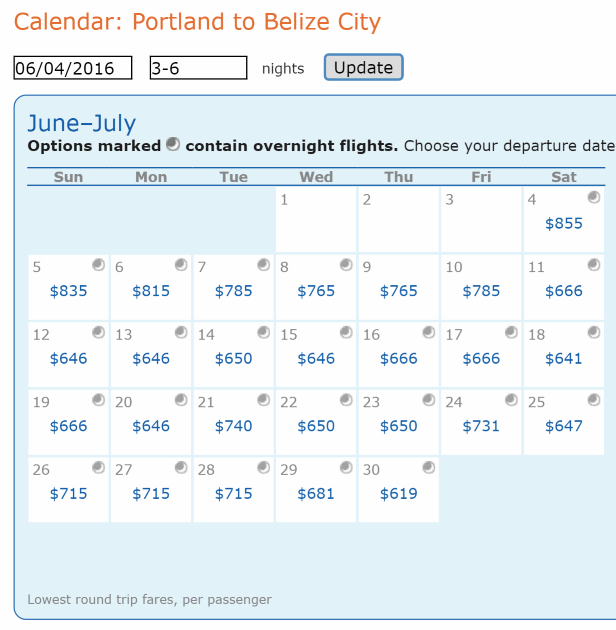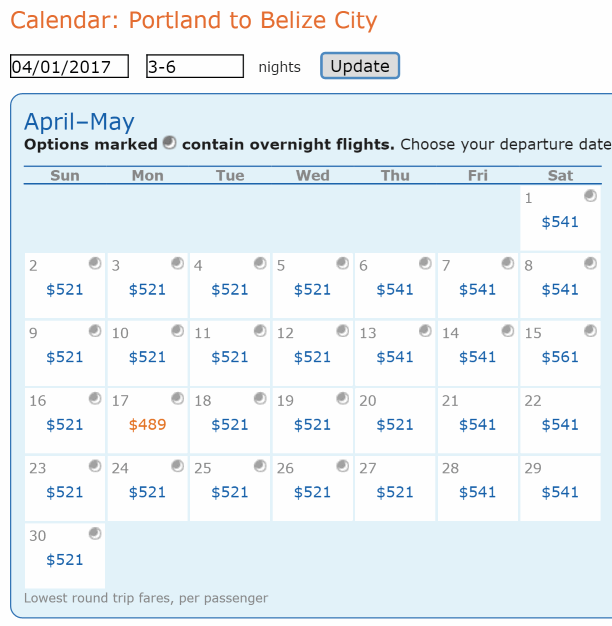 Other low-hanging fruit advice that goes along with this: the more flexible you are with dates and times, the lower the price is likely to be. Count on it that fewer people are going to want the flight that arrives or takes off at 3:30AM.
Spatial flexibility
Just as temporal flexibility is a benefit to finding cheaper flights, so is spatial flexibility. In short, have you thought about flying into a nearby airport?
Looking at a map, I see that Cancun is relatively nearby to Belize.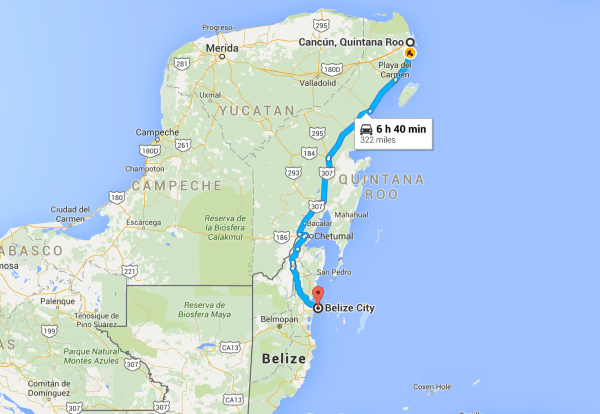 Cancun, not just a destination on the Spring Break circuit, has the second largest airport in Mexico by passenger volume (something I just learned), carrying about 40 times the volume of passengers each year as the airport in Belize City. Think you could find a better deal, or at least a more flexible deal, in Cancun? I bet you could.
What about miles?
Let's say you have frequent flyer miles, and you want to fly to Belize. You're in luck, as all the major airlines fly there.
Let's say you have no frequent flyer miles, and you want to fly to Belize. You're in luck, as all the major airlines fly there.
Get me?
To get from the U.S. to Central America, here is a rough estimate of how many miles you would need:
In this case, the differences aren't that great, so what I would do is do some sample searches on each airline to see what the actual number of miles required for the trip is, as opposed to these theoretical numbers.
American in this case appears to have a pretty good deal. I found a roundtrip next year for 32,500 miles. Taxes came to $66.91 on this itinerary. Not bad.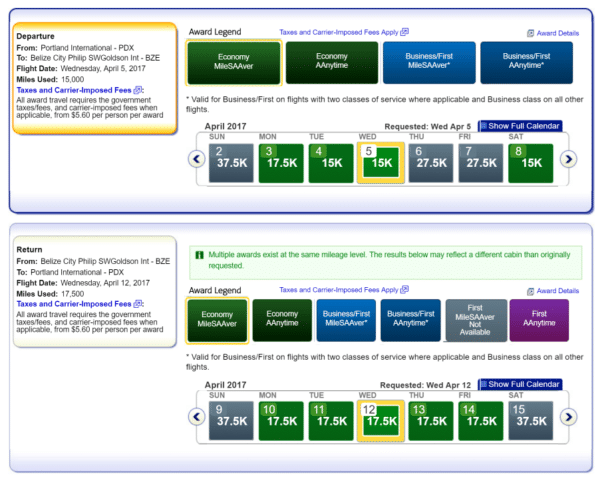 Get miles
Of course, once you find that American Airlines has the best mileage deal, you still need to acquire 32,500 of their miles. But since you're doing this well in advance, you've got time to figure it out.
There are lots of ways to earn miles, all without putting everyday spend on a credit card, which will end up making this trip much more expensive for you in the long run.
And don't forget that you can use some or all of these ideas together. For example, say you only have enough miles for a one-way trip. Well, you could buy the one-way and use miles for the return trip. I did this recently and it saved me a lot of money.
Don't forget about this final "hack"
After all this, it might make the most sense not to do any travel hacking, and just save up for the damn ticket.
Travel hacking takes time and energy, and certainly isn't free. If you're saving up for a $600 plane ticket (for example), then if you plan to put away $50 a month, in one year you'll have enough to go. It's not a very exciting way to get there, but it's also foolproof.
Miles can devalue, and gimmicks can change, but $50 a month will never fail you.
But enough about me. Where are you planning on going? How are you planning to get there?