Earlier this year, I talked about the Priceless Surprises promotion. Put on by Mastercard and IHG, the company behind Holiday Inn and a bunch of other brands, this sweepstakes was ostensibly about staying at lots of hotels, but had a side gaming element where you could enter the sweepstakes by mailing in an index card.
You could enter a maximum of 94 time, and that was exactly what I did. The worst case scenario would mean losing out on $60 of supplies (mostly stamps) and a waste of an evening.
As it turned out, I earned a grand total of 51,500 points.
How much is that? Well, IHG has different categories, but these days the hotels range from 10,000 points per night to 60,000 points per night.
There is no direct relationship between the price and the category. When I was in Belgium last month, I stayed in a Holiday Inn that cost only $90 per night, and yet would have cost 25,000 points, which felt a little steep. Conversely, I routinely find 15,000 point hotels in the $150 range.
But with a little over 50,000 points to use, the question is: what kind of value did I get for my points?
Follow me along as we take a grand tour of some of the (pleasingly random) places I've been this year.
Hotel #1: Candlewood Suites – Chicago O'Hare
Points spent: 15,000
Room price: $120 + tax
I visited Chicago earlier this year as part of a family gathering consisting of me, my dad, and my brother. Since we lived all over the country, we decided to meet in a place that was equally (in)convenient for everyone.
As flight schedules from Portland precluded an early AM arrival in Chicago (and I wasn't into red eyes), I decided to show up the night before. And as our designated meeting place was O'Hare, I decided to stay out by the airport.
Candlewood Suites is kind of a contradiction. The word "suites" often implies luxury, but Candlewood Suites are anything but. The rooms are usually bare bones, and the kitchen facilities are shoehorned into a normal-sized room. The front desk in this particular case was behind plate glass, something I would usually only expect at a Motel 6.
Yet I like Candlewood Suites, as sometimes I want to cook for myself when I'm on the road, and frankly, I don't need luxury to be comfortable. In this case, they offered a free shuttle from the airport, which suited my needs. I got takeout instead of cooking, but I was able to use real plates and utensils.
And hey, it was free. Which counts for a lot.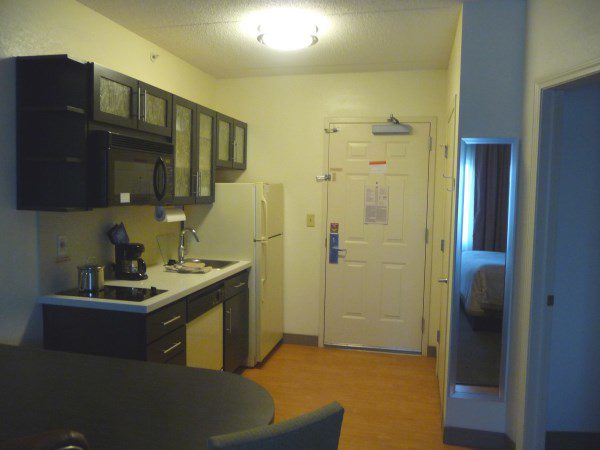 Hotel #2: Holiday Inn Express Mt. Pleasant – Scottdale, PA
Points spent: 15,000
Room price: $107 + tax
I spent some time this summer wandering with my partner over my birth state of Pennsylvania, a state that I hold in high regard, for its natural beauty and cultural offerings. The Appalachians have nothing on the Cascades, but they are comely in their own way, and the old coal towns nestled in their midst have an undeniable charm. (Especially if they are on fire.)
We were on the way to visit Fallingwater, the Frank Lloyd Wright masterpiece, and this random town was about as far as we got the night before. We booked the hotel last minute, didn't spend any time in the room awake, and were gone by mid-morning. But as a place to crash, it was more than worth it.
Holiday Inn Express (not Holiday Inn, which is a totally different thing) is one of my favorite hotel chains, as it hits the sweet spot between anonymity, convenience, comfort, and price. (Price aside I'd probably pick Hampton Inn, but let's face it, I'm usually paying for the room. But not here!)
Hotel #3: Candlewood Suites – Hazelton, PA
Points spent: 10,000
Room price: $92 + tax

Say what you will about Candlewood Suites, but you can't beat 10,000 points. (Well, you can with PointBreaks, but those are increasingly hard to take advantage of.)
I can buy 5,000 points for about $35, so at the very least, face value of this hotel visit would have been $70. But since I had earned these points on a sweepstakes, in the end my cost was much less.
Hotel #4: Holiday Inn Express – Troutdale, OR
Points spent: 10,000
Room price: $104 + tax

I love staycations. I love getting out of my usual routine and doing things differently. It helps me focus, remain more creative, plan my next life moves, and recharge.
The only thing better than staying at home for a staycation is staying at a hotel for a staycation. That way, you get all the benefits, plus a room you don't have to clean, and maybe even a pool and hot tub too!
That's why for the past few years I've always taken some time (usually on or around Christmas) to go away, either by myself or with my partner, and have a staycation. This year is planned to be no different, and I'm assisted by a local Category 1 Holiday Inn Express on the outskirts of town. There's basically nothing there (aside from a short drive to this amazing place) and that's perfect for me.
Grand totals
[table]
Hotel,Points,Price
Candlewood Suites – Chicago O'Hare,15000,$120 + tax
Holiday Inn Express – Mt. Pleasant – Scottdale PA,15000,$107 + tax
Candlewood Suites – Hazelton PA,10000,$92 + tax
Holiday Inn Express – Troutdale OR,10000,$104 + tax
Total:,50000,$423 + tax
[/table]
So there you have it. For the cost of $60 and some work, I received four free hotel night stays at a value of almost $500.
I think that seems worth some index cards, don't you think?
But enough about me. Have you redeemed points for a hotel stay recently?