A few weeks ago, I wrote about the Priceless Surprises promotion, a way to earn hotel points and other prizes. This promotion was sponsored by MasterCard, which presumably had a vested interest in getting you to use one of their cards, and IHG, the hotel group that includes Holiday Inn.
What was interesting about this program is that it contained a very interesting loophole: you needed neither to stay at an IHG property nor to use (or even have) a MasterCard. You could enter the promotion by sending in index cards. Moreover, you could enter the promotion multiple times: 94 of them, according to the rules.
So I got together with a friend and did just that. And waited.
And waited.
As the weeks went on, hearing nothing at all, I began to wonder if I had gotten swindled. After all, a promotion with so much upside (I was almost guaranteed to make out ahead) seemed too good to be true.
Did I spend $60 on stamps and supplies and waste an evening of my time just to learn a hard lesson?
Polite persistence
I mailed the bulk of my 94 entries the first week in February. I actually went and stood in line at the post office, even though my envelopes were all properly set to be mailed, just so I could get a professional to look over them. After all the work I had put in, I wanted to leave nothing to chance.
(Well, I guess I could have put tracking numbers on each envelope, but that would have been ridiculous. Unlike the rest of this, of course.)
A month later, I looked up the email address of the company handling the promotion (the Flyertalk thread was instrumental throughout this process) and politely asked what was up.
I got an automated reply:
Thank you for your email. We are carefully reviewing our records in regards to your inquiry and will be back in touch with you in 1 to 3 business days. We apologize in advance for any inconvenience this may cause and appreciate your patience as we work hard to get a response to you as soon as possible.
I heard nothing further for four days, and then received a curt email (this one obviously from a human) which said:
Good Afternoon,

Please provide your IHG Member ID.
I dutifully replied with the necessary info, and again heard nothing.
A few days after that, I poked them again, as I had read that all plays needed to be taken by March 15, and that day was approaching. I was nervous that I had left things to the last minute, and would get screwed because of it.
Hi there. Any updates? Have you located my entries in this promotion? There should be 94 of them.

Thanks,
Mike
The next day, I was at my usual spot in the coffee shop writing, when I received an email.
And then another. And then another. 33 of them in fact.
A few minutes later, another batch arrived. Within 15 minutes, I had received 94 identical emails from the promotion.

It was time to play.
Open the elevator bay doors, IHG
The way the game works is that you click the link in the email and it takes you to a site with a picture of an elevator. You click a floor number, and when the elevator door opens, it tells you what you've won.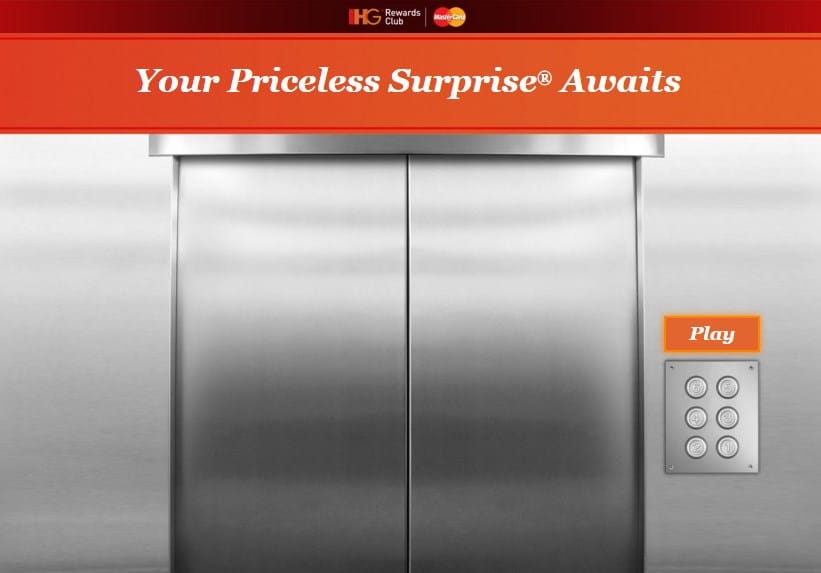 So I did this, 94 times.
According to the odds of winning, I determined that I would win around 40,000 points. Most of the time, I would get 500 points per play, with possibly a few larger payouts.
By and large, this is what happened. I received 89 plays that earned 500 points…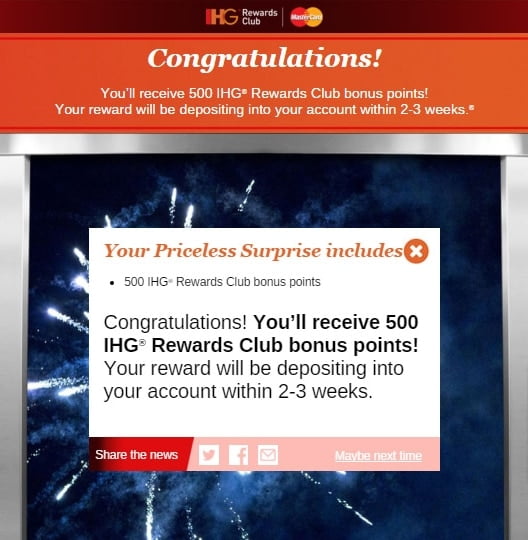 …3 plays that earned 1000 points…
…and 2 plays that earned 2000 points…
When all was clicked and done, I had won 51,500 points, much better than I expected to do.

How much is this worth?
As always, the value depends on what one does with the winnings. Most IHG hotels cost between $100 and $200 a night, and seem to go for 15,000-25,000 points a night. So without trying, this would be worth $400 dollars to me. Worst case, if I got in on a particularly bad deal, I'd only get $200 of value.
But if got in on the Point Breaks promotion (which I've gotten in on before), I could get up to 10 nights free, netting more than $1,000 from this promotion.
In short, there was no way not to make back the $60 I spent on supplies. Not bad for some stamps and a few hours of my time!
The best part of this promotion
If you are interested in the game of travel hacking as a way to make travel experiences more possible for you, you've no doubt noticed that so much of the discussion involves credit cards. All of which might net you travel benefits, but most often collide against the more important habit of getting on a plan with your finances, staying focused, and reducing unnecessary spending. (Yes, even if you pay it off every month.)
Because of its rarity, it's very refreshing to see a way to get in on a promotion that requires no credit card at all. Now that's a priceless surprise.
But enough about me. Did you get in on this promotion? If so, did you receive your points? Did you need to contact the company to make it happen?