If you plan your spending in a given month by checking if your balance is zero, you're missing out on some wealth-building strategies.
How much money do you have in your bank account?
Obviously that's a thing that varies over the course of the month. You get paid, balance goes up. You pay rent, or get groceries, or do literally anything else, and balance goes down. Up and down, up and down.
So the question of how much money you have at any given time is not a simple one.
And yet, there is an amount that you may pay attention to more than all the others.
And that's zero.
Zero determines everything, you know? It's not something you can disregard. You can spend or save and your balance can go up or down, but you can't crash below $0.00.
For many people, zero is their boss, their drill sergeant, their police officer.
Because it's built-in, people get in the habit of spending their money until it gets to zero, and then waiting until they get paid again.
Is there a better way? I have some thoughts about that.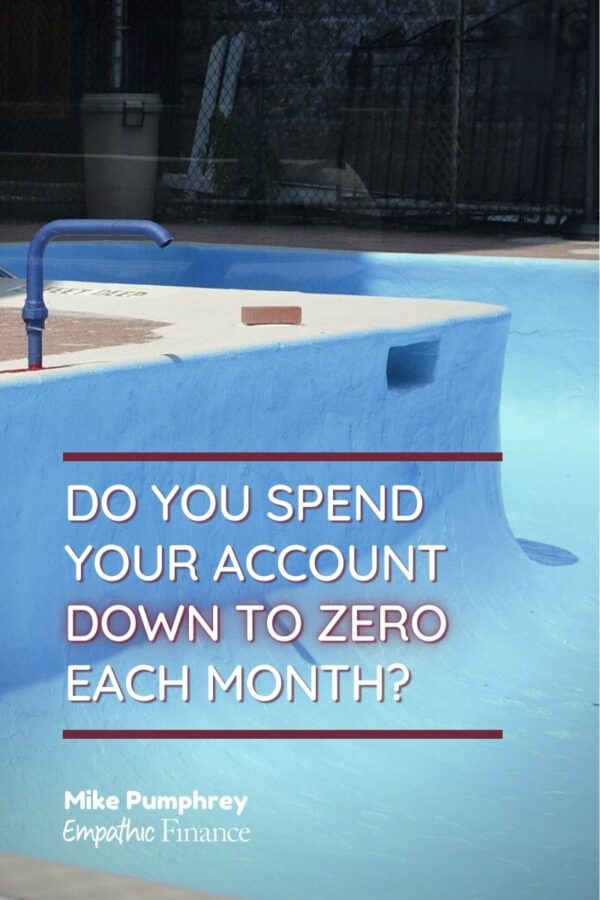 Quick aside about credit cards
Way too many people get around the problem of running out of money in their account by putting everything on a credit card. This is a terrible idea.
First off, you haven't actually paid for anything when you use a credit card; you're just punting on it for later. But how will it be any easier later?
Plus, news flash, if you don't use credit cards, you can't get into credit card debt.
The problems with hitting zero
There are plenty of downsides to spending down to zero:
You run the risk of getting hit with fees if you run out money. (This is despite the bank not seeing the irony in this, but whatever.)
You are forced to time your spending. When you're at risk of hitting zero, you have to make sure that there is enough money in your account (and that other purchases aren't pending). This causes a lot of needless administrative work, not to mention stress.
If you get paid more than once a month, parts of the month can be unequally hard. If your bills get paid at the beginning of the month, you'll have less spending money until your next bimonthly paycheck. That doesn't make sense to live like that.
You get in the habit of connecting having money to being able to spend money. If you spend money until it hits zero, then it means that any money that's in your account is fair game, and can actually induce more spending. You're certainly not going to build up a savings that way.
As you can see, I'm not a fan.
What to do instead
Pick a number that's not zero. It doesn't matter if it's $25. State that as your goal to end the month with that amount.
Slowly increase that amount each month. Maybe $25 this month, maybe $50 the next. It doesn't matter. Slowly increase this target amount. Don't worry that this money isn't "doing anything"; it's helping you feel less stressed and allowing you to be more in control.
Set a goal amount to where you don't have to worry about scheduling payments anymore. With enough "float" in your account (that's what I call it), eventually you won't have to ever worry about when payments fall in the month. And as a bonus, you now are tracking your money more effectively throughout the month.
What I do
I hate worrying about when payments happen.
So the amount of money in my account at the beginning and end of the money is roughly equal the the total amount of bills and expenses that I have in the entire month. If I paid everything on day #1 of the month, I'd still be fine.
Now that may seem a bit excessive to you, or even unachievable, but it's not; it just takes time. I definitely didn't do that overnight.
But again, don't be fooled by thinking that the extra money is just sitting there. It's helping you build financial wellness.
In other words, it will make you richer.