I was in the fortunate position of flying international Business Class using frequent flyer miles recently. Yes, it's hard to complain.
And while it was a great experience, a lot of what made it great is that it gave me a chance to remember some interesting lessons about perspective and envy.
Coach or Business
I once wrote that International Coach is the sweet spot for award travel for the infrequent flier.
Now, I admitted at the time that this was a bit of an oversimplification. For example, I didn't talk about Business Class, which is a tier that exists in between Coach and First when traveling internationally. (Business Class is less common on domestic routes.) The amount of miles required sits roughly in between Coach and First, so it gives you more choices to make.
For me, I was using US Airways' partner award chart, which, at the time of purchase, was the following for travel between the US and Europe:
70,000 miles for Coach
100,000 miles for Business
120,000 miles for First
After much decision making, I decided to spring for the Business Class award, which, even though it was 30,000 more miles (not an insignificant sum) I was honestly just curious about it. Would it be the lap of luxury when compared to regular Cattle Class? Would it be worth the ~50% extra miles?
Here is my flight itinerary:
(Note that the extra legs in and around Europe didn't cost any extra miles. There are limitations, but you can have stops in between your destinations.)
Due to the way things worked out, I couldn't get a Business Class seat on the outbound (overnight) journey, so I had the following Business Class flights:
Frankfurt to Stockholm (FRA-ARN) on Scandinavian
Oslo to Berlin (OSL-TXL) on Scandinavian
Berlin to Frankfurt (TXL-FRA) on Lufthansa
Frankfurt to Seattle (FRA-SEA) on Lufthansa
The first three were small flights; only the final one was a long-distance route.
This is not my beautiful Business Class
The first thing I learned is that Business Class means different things to different airlines. On my Scandinavian flights, this meant "you get to sit at the front of the plane" and "you get more than just coffee and tea." And not much else. The seats didn't appear to be appreciably larger, and they were still three across per row.
In fact, the difference was so slight that they actually needed a sign to designate where Coach began!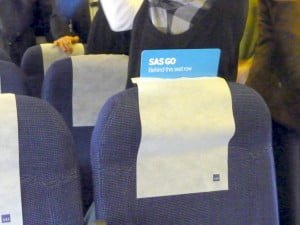 This was a bit disquieting. Did I just waste 30,000 miles? Was that the reason that these flights were available (i.e. because no one wanted them)? Finding availability on award travel is a life-enveloping experience so I didn't realize that there was more to it than just finding flights. Where was my amenity kit and lie-flat seats?
The short hop on Lufthansa to Frankfurt wasn't much different, although they did have a bit more leg room in the front. Interestingly, instead of putting in wider seats, they just kept the middle seat empty, so we could use it as our arm rest and table, just like one does in coach when the middle seat is empty.
But by this point, I felt ripped off. I had paid a lot of extra miles to fly in Business Class, and I didn't really feel much of any different experience. I began to think that the whole venture was a costly learning experience.
Lucky didn't help. Lucky, a.k.a. Ben from One Mile At A Time, a very enjoyable travel blog, wrote about my final flight on his blog, though he wrote about it in the opposite direction. He said that "business class on most US carriers beats Lufthansa business class in just about every manner" and that "[t]he whole service was conducted as if the crew was working an assembly line."
Also, I learned that Lufthansa had a "new" Business Class product, but sure enough it wasn't available on this flight. I was stuck with the old plane.
Final takeoff
Finally, the day came where I boarded a flight at 10AM for an 11 hour flight that would land me in Seattle at noon. (I just love that.) I was shown to my seat, which looked more like a cockpit chair than a airline seat.
I sat down and examined my new home for the next half a day. I was asleep in minutes (traveling is tiring work), but when I woke up, I played with my "old business class product" chair, and converted it into its "angle flat position" with foot rests so you don't slide off.
And I started laughing.
Because I realized that the whole experience was amazing, and that I had allowed myself to completely lose perspective.
Yes, you couldn't lie flat. But who cared? I could turn my seat into a reasonable facsimile of the Craftmatic Bed. So this wasn't as nice a product as some other airlines. But who cared? I was flying across the world in greater comfort than I'd ever dreamed of. I only felt ripped off when making comparisons to other situations, not when taken on its own.
Perspective and envy
It can be difficult to see others enjoying nice things, because it can bring on envy. But more importantly, envy can cause you to forget that what you have and where you are can actually be quite awesome.
Yes, there will always be people who have more. More money, more experiences, a lie-flat airline seat. But if you can forget that for an instant, you can get back in touch with what you do have. You might just see that it's actually great, or at the very least, good enough.
So yes, I could have planned my Business Class award better. But my flights were all comfortable and enjoyable, and we all got there at the same time.
And honestly, those amenity kits don't really have anything special in them anyway.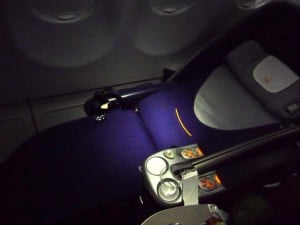 But enough about me. When have you lost perspective?