The conventional wisdom when it comes to investing for retirement, is that you to start out with more risky/lucrative investments when you're young and can afford to take more risks, and then over time move into more conservative prospects, towards the day when you actually need to tap into what you've put away.
But there are a number of unanswered questions in this narrative. Namely, when do you transition from more risky to less risky? And how quickly do you transition?
Or, do you reject the whole transitional period outright?
If you haven't thought about this, you might want to start.
Let's talk about risk
The hard truth is that you are unlikely to ever have enough for a comfortable retirement unless you make a solid return on the money you put away. The math doesn't add up. You need the power of compound interest.
Assume you need a $40,000 income to be comfortable, and that you're likely to live 25 years after retirement. If you had little or no compound interest to work with, you'd need to sock away $1,000,000. But since the average person in the U.S. will earn about $2,000,000 in their lifetime, it's unreasonable to assume that someone can put away 50% of their earnings.
So we need to make money with our money. The less money (or time) that we have, the more money we're going to need to make.
And you're only going to make the "a lot of money" on riskier (or more volatile) investments.
So here we are.
"Own your age in bonds"
A perennial adage you hear is to "own your age in bonds". This means that you invest a percentage roughly equal to your age in (lower-risk) bonds, and the rest in (higher-risk) equities (like stocks). So a 30 year old would have a 30% bonds / 70% equities.
I don't like this at all. For me and my risk profile, it gets you way too conservative for far too long, and during the prime earning years of your life too. Low risk investments don't return enough for us. You'd need a huge amount of money to be able to get to any sane retirement goal.
Target date funds
I've talked about target date funds. These funds take the guesswork out of knowing when to go conservative. Over time, they do the change over for you, starting more like a equity and ending more like a bond or fixed income.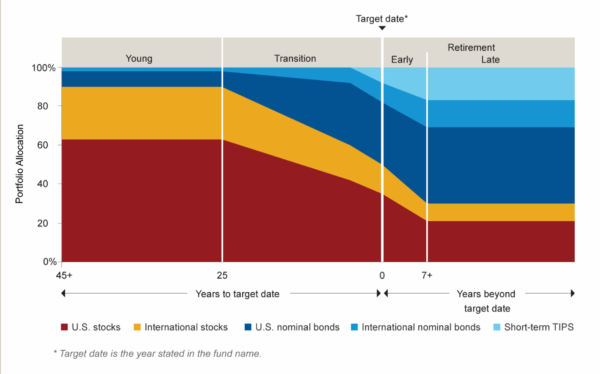 I tend to like these funds mostly for those who are not interested in looking at their investments ever. Like, I'll set this up and see you in 40 years.
But while I don't want anyone day trading, I also want people to understand what they are doing, and check their progress at least once a year.
But if you find a fund whose curve matches your desire, then it's fine. And it's certainly better than doing nothing.
How long will it take you to recover?
We need to assume that a down market will eventually return up again. We have to assume this, otherwise we're all going to put our investments in cookie jars and under mattresses.
Luckily, at least in the US, we have data showing that this is true, at least over a long scale. If you look at 15 year rolling averages over the past 40 years, the S&P 500 has never been negative.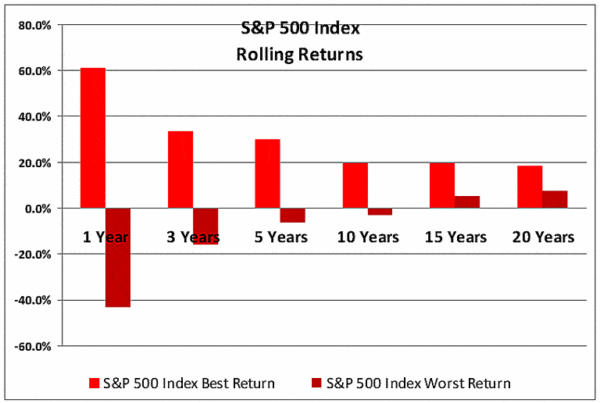 For me, from my vantage point, there is a lesson. Given that downturns have a relatively known length, we can count back from the date we're likely to need our money to that point, and that's the time we want to start going conservative.
So let's say that a downturn takes about 15 years to bounce back. If I were to need that money around age 70. It means that I might want to start going conservative around age 55.
The thing we want to avoid is being at the point where you need the money and being in the bottom of a downturn and fully exposed. A lot of people got hit with this in the Great Recession.
But the other thing we want to avoid is to be so conservative so early in our lives that we don't have the chance to make any money.
While obviously we can't know what's going to happen, it seems to me that going conservative any time before your 50's is too soon. You need the power of compound interest, and that takes time. And if something happens before then, you'll have enough time to recover.
Just pick something
Because we're dealing with a combination of future-prediction and personal tolerance, and because (cop-out alert) everyone's income and needs are different, it's impossible to say with certainty how we should handle our own risk.
But we know that we need time to invest and money to invest, but we also need a high return or none of that matters.
If you're not thinking about your risk tolerance, and how it will change over your lifetime, you owe it to yourself to start that conversation. Years from now, you'll be glad you did.
But enough about me. How do you determine your own risk tolerance?