I've been renting cars for years. Some people are often surprised to know that I rented my first car at the age of 20, five years before the supposed "lowest" age of 25 (and even lower than the "lower lowest" age of 21).
So am I here to show you how you can earn points and miles when renting a car? How to get elite status with the various rental car agencies?
Not a chance. I suggest everyone just find the lowest price, and not be concerned with loyalty.
Cars are not planes
I fly between 25,000-50,000 miles a year, give or take, enough to make airline loyalty worth it in my case. While I'm not flying first class on the Emirates A380 (the one with on-board showers), I occasionally get upgraded when I fly, and for that reason alone, I can't complain.
Even if you don't fly that much, there are plenty of good reasons to fly with a single airline (or airline alliance). The reward system for rental cars, however, seems fundamentally different from flying, and not in a way that makes it worthwhile, even if you rent cars frequently. Here is why:
I don't want upgrades. An upgraded car isn't an upgrade to me. It's going to be larger, require more gas, and will make it harder to parallel park. On plenty of occasions, I have been upgraded to a larger car, only to ask them to downgrade me back to what I asked for. They always seem perplexed that I wouldn't want a larger car. Many times, I want a smaller one.
Loyalty isn't as necessary. There are geographic reasons to fly with a certain airline. If you live in Minneapolis or go to Atlanta often, Delta is an obvious choice of airline, as it has hubs in both cities. Denver? Fly Frontier. Philadelphia? Fly US Airways (while it still exists). But what is the hub of Hertz? Where is Alamo based? Do you even know? In the US, all the major carriers are pretty much everywhere. Location doesn't matter.
Loyalty isn't as incentivized. Most of the rental car programs have some form of preferred program. Usually, this involves skip-the-line service, the ability to get free car upgrades, and faster achievement of free rentals. Now, truth be told, I'm a big fan of skipping lines, especially at airports. And I like free days, of course. I just don't think the cost is worth the benefit.
The price of loyalty
National is often voted the best preferred program of the bunch, so let's look at that one. Assuming I had preferred status (or wanted to gain it), I'd want to rent with them. But let's look at prices. On a random search in my home town for a week-long rental, this is the chart from KAYAK: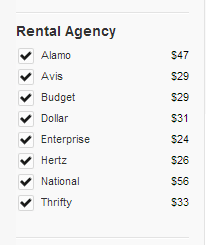 National is almost twice as expensive as Avis or Budget. (Do your own searches, and I bet you'll find the same thing.) By the time you got your free night, you could have had many free nights, or just pocketed the difference. And I know our time is valuable, but how much extra are you willing to pay to be able to skip the line? Is it worth $30 per rental day? I don't think so.
And Enterprise is even cheaper. At least here. But what about another city where they may be more expensive?
Loyalty will cause you to spend more money, and without much in the way of corresponding benefit. So just find a car with a reputable agency, and book it.
But enough about me. Do you have (or wish to have) loyalty to a rental car agency?