So I talked about how being a millionaire is both more achievable and less meaningful than ever before.
In fact, I'll go even further by saying that for many of us, it's also effectively mandatory. Yes, I'm saying that it's not a matter of aspiring to be a millionaire, but that you need to become one.
Ideals don't take the place of meals
May we all live a long, healthy, productive, fulfilled life. May we all live simply, and off the land as much as possible. May we all have everything we need all around us, like this comic from the Doris Antidepression zine.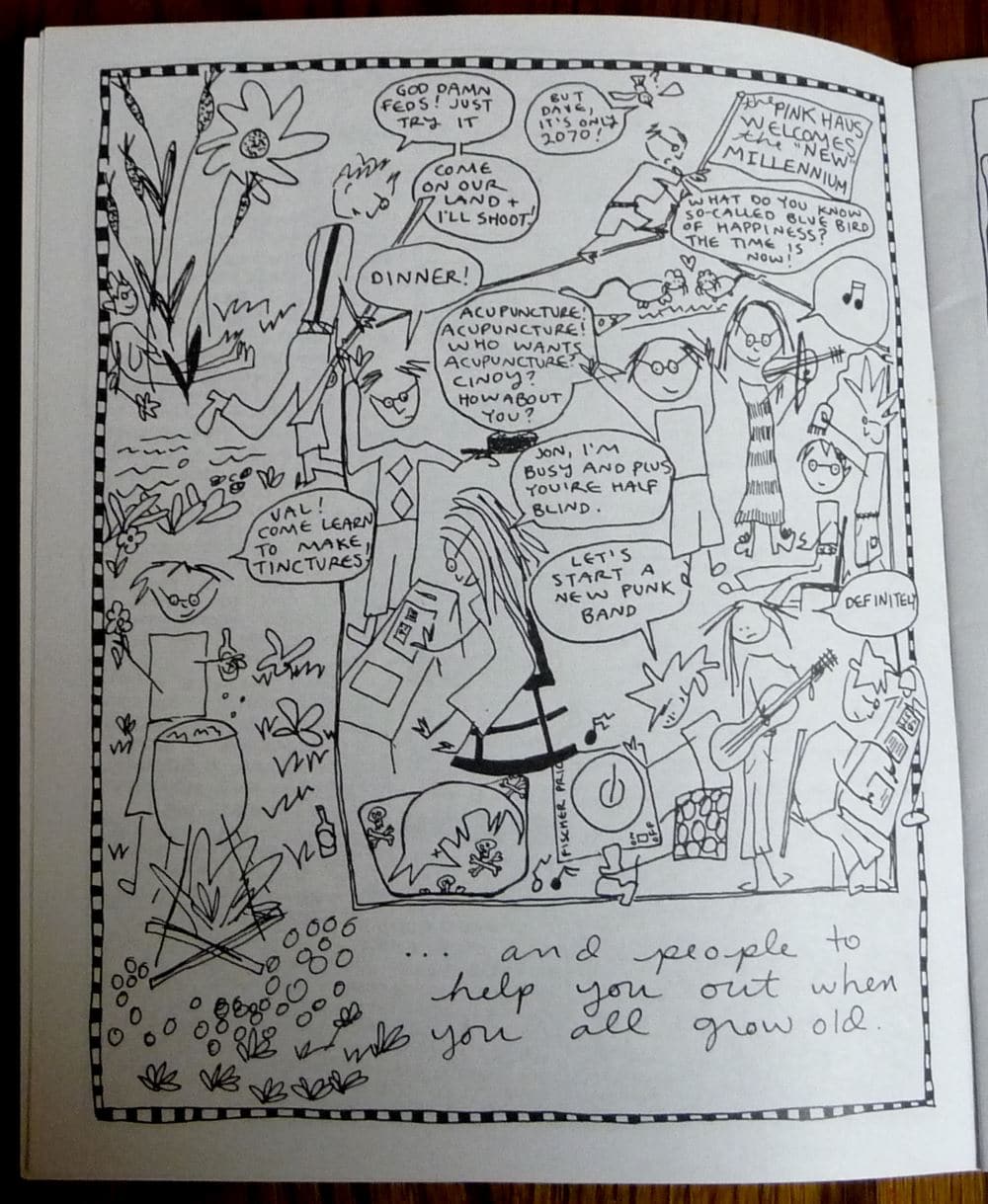 But while there are almost always methods we can employ to simplify our lives and become less dependent on the consumerist treadmill, there is a limit. That limit may be medical expenses, or perhaps the inability to work productively, or something else. It's not a pleasant train of thought, but there's no point avoiding it. We must live for today, but plan for tomorrow.
All of this is a roundabout way of saying that we're likely going to need some money in the bank. I don't feel like we can truly rely on our friends, lovers, the state, or even our offspring to carry us on their backs, at least not totally.
I believe that we each want to aspire toward having a minimum of $1,000,000 in the bank (or equivalent) in order to have a comfortable coda to our lives. My rationale for this is that this is predicated on the need to have your money work for you when you can no longer work for your money.
Bold claim, I know. But stay with me. Remember how I said that this is easier than ever. Not easy. Just not impossible.
Working hard for the money
There are endless arguments about how you can make your money work best for you. On the radio a few mornings ago, I heard a commercial about someone touting a book with a scam "secret method" talking about how he was able to make 72% return on a trade where the stock only moved 12%. Now, I have a stock tip of my own, but the fact that this kind of thing is getting air time speaks to my view about advertising.
When it comes to financial projections, I'm rather conservative. I believe in the "get rich slowly" ethos (espoused by the eponymous site), not only because it's the only thing that will work, but also because it will teach you to be comfortable with your own wealth, your own responsibility, and your own accomplishments.
So how much do I think you can reasonably expect to make as a return over the long term? Let's be ultra-conservative and say 4%. Short of violent economic contraction, I don't think I know of anyone who's going to argue that our economy will net you less than that.
So, if you make 4% at a minimum and you have a million bones, each year you'll make about $40,000.
(The above is an oversimplification, but I'm assuming we're talking Roth here and not worrying about taxes.)
When I think of $40,000, my first thought is "modest", but my second thought is "sufficient". An individual can live off of 40 grand a year. Probably less, but you take my point. This is, of course, assuming that you have no passive income sources, and that you're unable to work at all. So in many ways, this is an overly conservative view of things.
Still, I wouldn't want to leave that to chance. Social Security? Who knows. My own health? Who knows. People who can take of me? Who knows.
My focus has always been on investing, because to me it's the easiest thing you can possibly do. Put money away. Wait. Rinse. Repeat. Nothing could be simpler.
What you need to do to make it happen
"I'll never have a million dollars, Mike! It's too late for me: I'm [whatever] years old."
(As an aside, the age at which people start feeling like it's "too late" for them is ludicrously low.)
Here's a nice little chart for you. Let's say you start with nothing. The chart shows approximately how much per month you'd need to put away in order to get to the big million mark in a given time frame. (Source: investor.gov)
[table caption="How much to put away each month to make $1,000,000″ width="500″ colwidth="20|50|50|50|50″ colalign="center|center|center|center|center"]
Years,4%,6%,8%,10%
40,$900,$500,$300,$150
30,$1500,$1000,$700,$500
20,$2700,$2200,$1700,$1300
[/table]
If there's one lesson that this chart teaches us it's: start now.
But this also assumes that your income never changes over the course of your life. $500 may seem like a lot now, but might not later, in which case, you could up your investment.
But even if you don't get to the magic seven figures, it's something to aspire to. It's an overly conservative estimate, as it considers that you have no other recourse, but that's better than assuming you'll make 12%.
A million dollars is a nice round number. And while it's been long associated with a symbol of wealth, it's time for us to shift to looking at it as a base line. Not to live opulently, but to live simply, believe it or not.
But enough about me. Do you think this plan is realistic? What's your plan for the future?