The World Domination Summit is a yearly conference in Portland that asks the question, "How can we live a remarkable life in a conventional world?"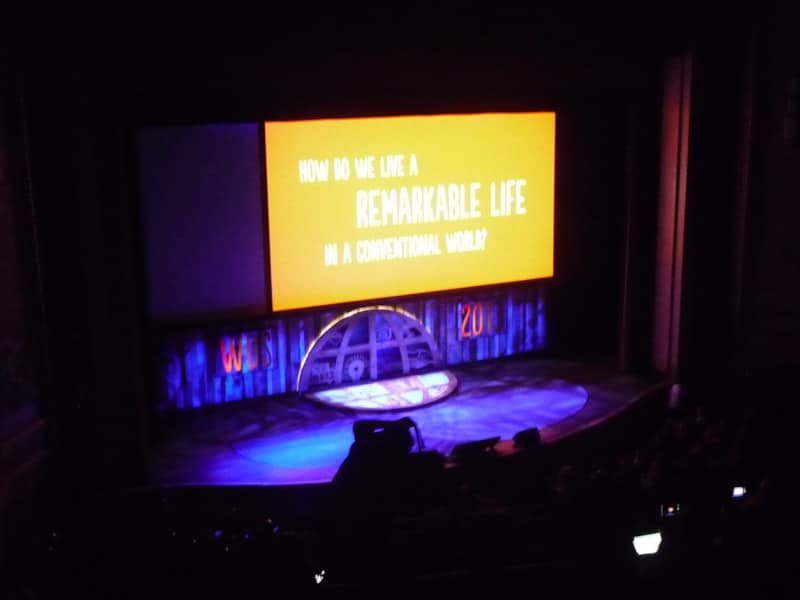 For those who would like a refresher, I've written about WDS before in years past:
I'm not officially attending this year. And yet, this might be the year that I feel most connected to the event.
Where does the time go?
I can't say that my reason for not officially attending was intentional. Nor was it unintentional either though.
I've been a paid attendee in the past, but $500 is a lot of money. Granted, considering how the event isn't sponsored at all, it's actually quite a steal, especially given the high quality nature of the event. But even though it's a good value, doesn't change the fact that I have competing priorities.
Instead, I prefer to volunteer. Or, as they call it, to be an Ambassador. I've felt more connected to the event as a volunteer, and it's helped to guide me when I've otherwise been unsure what to do in such an overwhelming event..
But this year, either I missed the email with the call for Ambassadors or it only went out through social media channels, which I'm less likely to pay attention to. Either way, I missed it.
So this is the first WDS I will not officially attend since year one.
Freedom to see
After I got over the initial disappointment, I actually found that the situation quite suited me. Without any duties at all, I am free to do whatever and be wherever I want. You see, WDS is an event that extends far beyond the confines of the downtown theaters where the 3,000 people congregate. There are "Academies", meetups, and other informal gatherings, from Wednesday before to the Monday after.
So my plan originally was to just show up downtown, and see what happened.
But then a funny thing happened: I started getting involved with some of the events.
First, Joel Zaslofsky from Value of Simple (where I did a guest post last year) was looking for a place to host his Offers and Needs Market event. I volunteered my coworking space and decided to play host. Why not?
Then, a bit closer to home, I was asked by by friend Amy Ouellette (another WDS veteran) to co-host a meetup. It was to be titled:
Taboo Talk – Getting Real With Your Money Questions
Oh hell yes.
Billed as "a meetup for people who want to take the stress out of money management," we'll be talking about some strategies that have worked for both of us, and then open it up to the group for questions. To, as it were, "break the taboo" and talk about what's on our minds.
We'll be meeting this Sunday, July 12, at 1PM in the Park Blocks of downtown Portland, right across from the Portland Art Museum. The event is already capped out, but as we'll be outside, it's not like we can prevent anyone from attending. So if you happened to be walking by…
A busy time already
And this is all being planned before the event begins. Who knows what kind of mayhem I'll get involved with during the actual event itself? With a free weekend and no need to be up at dawn to make it to the theater in time, I could even attend some of the evening events and after-parties without being so exhausted.
So, I've been an attendee at WDS, and then I've also been an Ambassador. This year, I'm going to be a speaker (in a way) and a floater. Call it being unconventional. And I fully expect my experience to be remarkable.
But enough about me. Are you going to WDS? What's your plan?