With inflation and rising interest rates, some say that there are better places to put your money than stocks. I'm skeptical.
There's a cute acronym that I've just learned about: TINA, meaning "There Is No Alternative". This refers to the belief on Wall Street and with investors that stocks are the best investment, and that even if stock returns are down, other investments would be correspondingly worse.
While I don't recommend investing in individual stocks (see my one hot stock tip), mutual funds that invest in stocks are fair game, and indeed they are a fundamental workhorse in the investment industry. If you want to set and forget, a broad-based passive index fund will reasonably net you an average annual return of 8% over the long haul.
But, with inflation and rising interest rates, plus the ever-present threat of recession, the current U.S. stock market hasn't been very reassuring recently.
And with even plain-old savings accounts returning rates above 4%, this is leading some to look at alternatives.
Should you as well? Let's look around and see.
Team TINA
A recent article in the New York Times is titled: "Yes, There Are Alternatives to Stocks".
The headline implies that stocks aren't providing the best returns right now. Instead, there is talk of alternatives:
"Amid all the hoopla, you can easily miss the solid returns being posted by far less glamorous but always important and, at the moment, compelling asset classes: fixed-income investments, including bonds and cash. […] Especially for those with short time horizons — whether you're in retirement or close to it, or saving for a house, education, a car, a vacation or any other worthwhile purpose — these lower-risk investments are worth a close look."
Much ado about nothing
I have read the article a number of times, and I can't help but thinking that there is much ado about nothing here.
Amid all the "hoopla", what I see is that the S&P (stocks) earnings yield is 4.34%, while Treasury bonds, a kind of ultra-safe risk-free investment, is earning greater than 5%.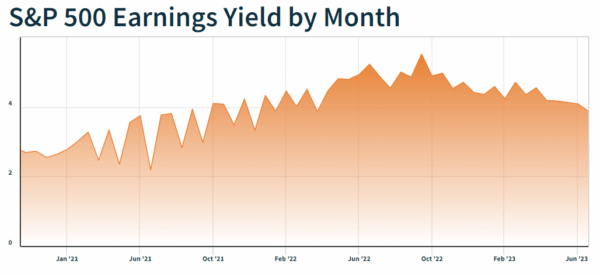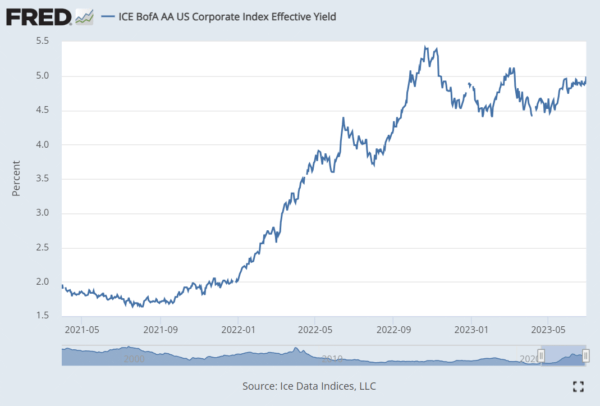 Maybe I'm thinking about this all wrong, but…so what? Is less than 1% really worth adjusting your investment portfolio for?
Not for me. I wouldn't even refinance a mortgage to save 1% on my interest.
I assumed that the information here would have been something like, "you can earn 5% more over the long term with X." But no, it's 1%, and it's not necessarily over the long term.
Don't just do something, stand there
Perhaps the reason why I'm unimpressed here is that the article may be making different assumptions about how to invest than I would suggest you do.
In my experience, one of the fundamental ways to win at investing (meaning, to maximize your returns) is to buy and hold for the long term. This means, sticking with your investments even as the financials change, because you know that they will eventually come back.
I can't find the original source (if you do, please link it below in the comments), but I read somewhere once that the reason why many people lost their shirts in the Great Recession in 2007-2008 was that they had sold when the market was declining, and so missed all of the gains. Apparently, there were only three or so specific days that if you had missed being invested, you were out some massive percentage of your recovery.
Point is, you don't want to miss out on any days.
Buying and holding for the long term prevents you from following the whims of the market. Yes, something might be trending today, but it might not be trending tomorrow. And when you try to time the market, you will lose.
And that's not even to mention tax consequences.
So I think this article, and the information contained within, is for people who are working with a desire to be more active with their investments, moving their money around more frequently to chase the highest returns.
That may work for some people, but I don't recommend it. Most people do not want to become an active investor. They want to make some decisions and then get on with their lives.
And investing in low-cost index funds of stocks (and, sure, some index funds of bonds too) and putting money away regularly, month after month, will yield the best returns for the most people, without having to make this your career.
(And for shorter term horizons where you need your money to stay liquid, just find an online savings account, which can earn you over 4% and be FDIC-insured as well.)
So, I'm still not changing my plans, because as far as stocks are concerned, I still think There Is No Alternative.