I think Alaska Airlines is pretty much the best domestic airline out there right now. Bold claim, I know, and there are many different criteria that go into such a rating, but I say this based on a combination of how well they treat customers (both frequent and non-frequent) and how much employees appears to be enjoying their jobs.
Alaska isn't always the cheapest, but price isn't always the most important consideration for me. Don't get me wrong, it's always a consideration, just sometimes comfort and timing trump raw price.
I've been flying with Alaska for a few years now, and I'm still happily learning new benefits to flying with them, including one that I just puzzled out this week involving same day flight changes. And this can not only add flexibility and save you time, but can also save you money as well.
Don't ever change (your ticket)
Airlines really really do not want you to make any changes to your ticket once it's been purchased. There is the mandatory 24 hour cancellation window, which is nice for those who have buyer's remorse the next day, but aside from that, unless you pay for a "refundable" fare (and in my opinion there's only one reason to buy a refundable fare) you're basically stuck with what you have, unless you want to pay a fee, which is usually somewhere between $100-$200.
Alaska is an outlier in this, because assuming your flight is more than 60 days away, you can make a change to—or cancel—your fare for free.
But what I didn't realize is that you can make same day changes to a flight for a maximum of $25.
But how can that save you money?
My layovers are long enough, thank you
I knew about the same day change benefit, but it never seemed to be relevant to me. I generally know which flights I'm going to want, and so I purchase them accordingly. I mean, I know that stuff happens and it could be useful for some people, but I never wake up thinking "I think I'll take a different flight today."
But when I looked at my most recent flight itinerary, I realized I did want to take a different flight. My itinerary was a little skewed, incorporating three short flights with a few hours of layover in between them. The first layover made sense, as there were only a few flights out of that airport, but the second layover was between Seattle and Portland, and Alaska runs so many flights between them that they might as well run a monorail.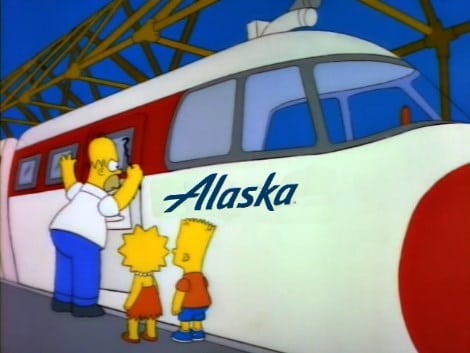 But I hang out in Sea-Tac enough, thank you very much. And while I couldn't recall the exact reasoning why I had picked this flight, it could only have been that a better time was more expensive.
That's how it works with airlines and their byzantine "yield management" strategies for pricing flights. The exact same route, flown at different times during the day, can vary widely in price.
But here's the rub: that pricing differential goes right out the window when the day of travel approaches because of the same day flight change allowance.
So if the price difference between two flights is considerable, you can book the non-optimal flight, and then on the day of travel switch to the more preferred flight. The cost for this privilege is $25, but is complimentary if you have elite status with Alaska.
An example
It's not hard to see how this can save you money. I just did a quick search of flights from Newark (EWR) to Portland (PDX). Check out these flights:
Notice that the cheaper flight requires a layover of 3.5 hours, while the ones with shorter layovers are more expensive. If you bought the less expensive ticket, and then used the same-day change benefit to change to the earlier flight, you'd pay a $25 surcharge, which would still be cheaper than the original price differential. The difference is slight in this case, but I've seen price differences of hundreds of dollars just by leaving at a different time of day.
YMMV
Now, I wouldn't bank on this being guaranteed. The flight that you may wish to switch to may be sold out (though you could try for stand-by). But if you're debating on a less optimal routing to save money, it seems to me that if the price difference is greater than $25, and you could stomach the less optimal routing if you needed to, you might as well purchase the cheaper option and try to switch later.
Other airlines offer a similar perk, but Alaska has the cheapest fee for this out of any airline I found (Travel Codex has a good list).
If nothing else, with the same day change fee rules, I was able to come home a little faster.
But enough about me. Have you ever used same day flight change rules in order to save money or improve your flights?