I'm heading to Montreal next month, which is exciting, as I've only been there once before, and in December, not exactly an optimal time for visiting a Canadian city.
I looked at using (Alaska) miles for the trip, but the problem was that, at least on the way back, award availability was very tight and tremendously inconvenient. Part of this is that I had once again violated one of the commandments of award travel: Book in advance. I can't stress this enough.
So, after a ton of back and forth, this was the best I could find given my time constraints:
With award space blocked off out of YUL (Montreal's airport) entirely, I would have to get to Toronto.
The day of my departure, I would wake up early, take the train to Toronto, then head to the airport (YYZ).
Once there, I would fly to LAX.
At LAX, I would have to find some kind of accommodation, or sleep on the airport floor like I did when coming back from Hawaii last year.
The next morning I would catch an early flight back to Portland.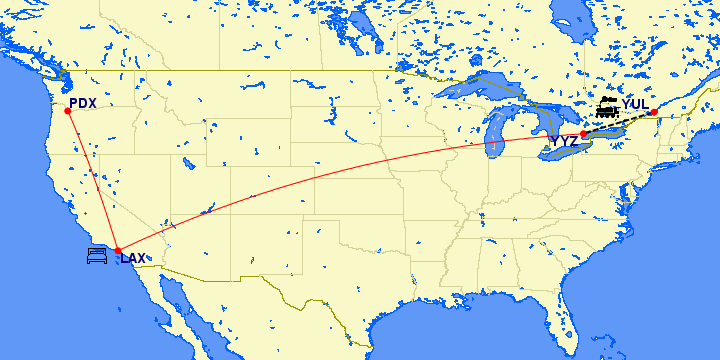 This, to put it mildly, sounded like no fun at all. But I booked it anyway, lacking any better ideas.
A week or so later, I got a better idea.
When airlines pick the flights, you lose
I've been gradually becoming aware that, at least on Alaska Airlines, the routes that show up when you make a search aren't the only allowable routes. I suspect this may be universal.
But there's a difference between allowable-but-hidden routes and just plain non-allowable routes. I love ITA Matrix for finding flight availability, but have found that in many cases, the flights you find there aren't actually able to be found on the airline's website, making the search a bit frustrating.
You'll always have a connection
When you fly somewhere, you're almost always guaranteed some kind of connection. This has a lot to do with airline consolidation and the hub-and-spoke model, but for the most part, we're used to it.
So when you search for a flight, you will often see two or three flights to get you to your destination again, often through the airline's hubs.
Using Alaska, the closest hub city to Montreal is Chicago (using their partner, American). So when you search for flights to and from Montreal, you'll almost always get a flight through ORD. But that's when you do a standard search; you have another tool at your disposal, and that's the Multi-City flight search.
With Multi-City search, you pick not only the starting and ending points of your journey, but also any connecting cities in between. This is useful for stopovers/layovers, and as we'll see, finding award availability.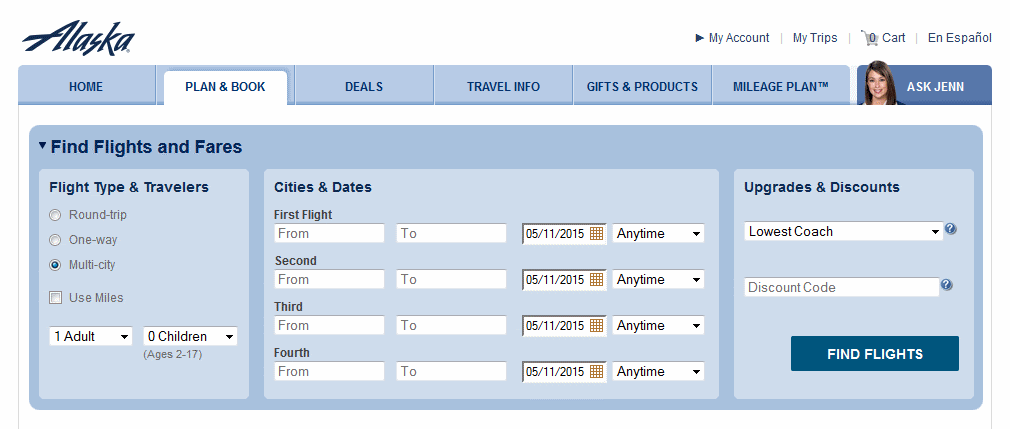 This isn't all that useful for when you purchase tickets with money. This is because when you add in a connecting city, the price of the ticket almost invariably increases. This makes sense, as prices are at least weakly coupled with distance traveled (along with ease of connection).
On the other hand, at least with Alaska (and with most airlines at the moment), the redemption of award tickets is not tied to distance traveled. Instead award tickets are priced out by zone.
With Alaska, a one-way saver coach ticket anywhere in the US or Canada is 12,500 miles. Regardless of connecting city. Bingo.
When you pick the flights, you win
The next step is to figure out what city to connect through.
In my case, I looked at the Wikipedia page on YUL to see where flights tend to go.
Both American and Delta are partners with Alaska (at least for now), so looking at their connections, I saw a few promising cities, such as Minneapolis (MSP) and New York.
So I plugged in a few options. This is one of those cases where there is no substitute for good old-fashioned brute force trial and error.
But when I got to LaGuardia (LGA), I hit the jackpot: a morning flight to LGA, an afternoon flight to ORD, and then an evening flight to PDX. No train to Toronto, no overnight layover, and definitely no sleeping on the floor. This flight, though totally valid, was only discoverable through the Multi-city search.
The cost of my original flight was 12,500 miles plus $70 in taxes (not including train and possible lodging). The cost of this flight was 12,500 miles and $70 in taxes. Sold. I canceled one and booked the other.
(By the way, you'll probably get hit with a change fee unless you're MVP Gold or higher, so be aware of that.)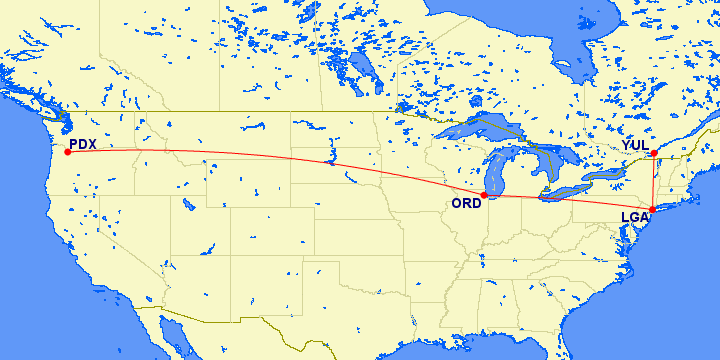 Success
So there you have it: if you're looking at award travel, and you're having trouble finding availability, look at manually connecting through a different city. It may not always work, but you'll get more options than the airline will give you otherwise.
Happy travels!