A year ago, I started going for my AFC® certification. Here is an update on how it's going and what I've learned in the process.
Last year, amidst a fair amount of personal turmoil (and not even talking about the pandemic here) I decided to get myself some credentials: I was going for my Accredited Financial Counselor (AFC®) certification.
It's now been a year since I made that decision, and I'd like to share with you what I've done and what I've learned in the process.
There are four "E's" associated with the AFC®:
Education
Exam
Experience
Ethics
So I figure I'll talk about each of them here.
Experience
In order to qualify, you need to complete 1,000 hours of financial counseling experience.
This, for me, is the mountain.
With my coaching practice, it's not like I can submit 40 hours a week for 25 weeks and call it good. This needs to be only for tasks directly related to the field of financial counseling.
These 1,000 hours can come in many different forms though. At times, I found the different classes of hours a little hard to find, and at some point last year, the categories actually changed.
For a while, I was working with this PDF from the University of Missouri as my main reference, which was a little crazy.
But now, I go to the source, the website where one submits one's hours for verification.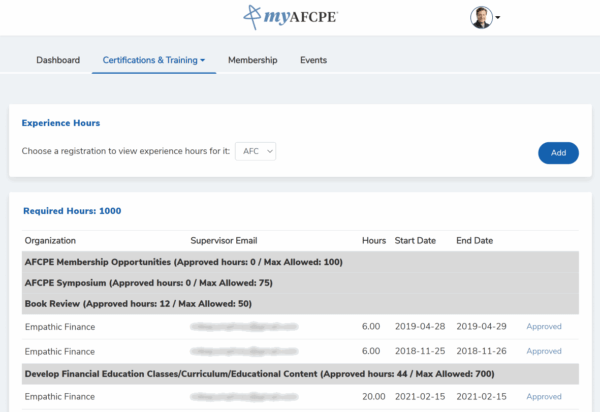 And so, if you are curious about the different categories, here they are in one place:
AFCPE Membership Opportunities (Maximum: 100)
AFCPE Symposium (Maximum: 75)
Book Review (Maximum: 50)
Develop Financial Education Classes/Curriculum/Educational Content (Maximum: 700)
General Administrative/Marketing Activities Related to Personal Finance (Maximum: 50)
Group Counseling (Maximum: 1000)
Newsletter/Blog Writing (Maximum: 50)
One-to-One Counseling (Maximum: 1000)
Related Coursework (Maximum: 100)
Related Training, Conference, Meeting, Seminar (Maximum: 100)
Related Webinar(s) (Maximum: 100)
Supervising Financial Counselors or Programs (Maximum: 1000)
Teach Financial Education Class(es)/Workshop(s) (Maximum: 1000)
Website Review (Maximum: 50)
As you can see, there are some categories that you can't use for all 1,000 hours. I have so many more than 1,000 hours spent on this blog (750+ posts and counting) but I can only count it for 50 hours. Drat.
The average length of session with my clients is 90 minutes. When you add in preparation and recap, that turns into about 3 hours. So even with a full case load, it's going to take a while to climb Mt. 1,000 Hours.
Now, in fairness, I'm pretty far along, and actually am probably even farther than I think I am, as I haven't exactly scoured my record for all the appropriate tasks. Candidates can submit hours from two years before applying and three years afterward, which is plenty of time.
But I'm not there yet. Gotta keep climbing.
Education
There are a number of different ways to get the Education requirement. For me, I chose the "Self-Study" option, which basically means that I'm given a bunch of textbooks and some online review materials, and told to get to it.
The books I received are:
Personal Finance (13th Edition); Garman & Forgue
Financial Counseling; Durban, Law & Mazzolini
Surviving Debt; National Consumer Law Center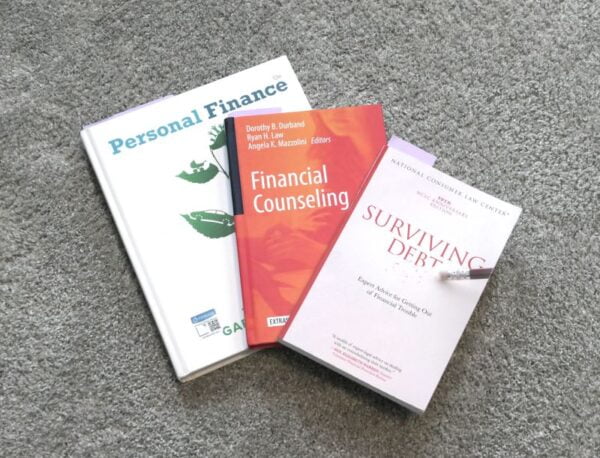 Personal Finance is at heart a textbook, and it seems to set its target at college students, which makes for some cringe-inducing writing at times. Recurring sections with titles like "You Must Be Kidding, Right?" grate on this particular non-college student.
But, like all good textbooks, it's comprehensive, and as a bonus it appears to be an "instructor edition" whose targeted sections are a little more straightforward.
That said, reading a textbook is a little like reading an encyclopedia, and about as fun.
Financial Counseling is a collection of essays written by esteemed members of the financial community, and discusses a range of practical considerations for the aspiring counselor. It's dense in places, though again comprehensive. And I welcome the density after spending too much time on the "look kids, money can be fun!" nature of the above textbook.
Finally, Surviving Debt sits somewhere in between "practical manual" and "essay collection" on all the myriad aspects of debt, from dealing with collectors to filing for bankruptcy. From my current vantage point, I foresee that out of all the books covered here, it's the one that I'll probably refer to most going forward.
There's also an online course called the AFC® Study Guide, which goes through 30 different modules of study, from "The Counseling Environment" and "Credit Reports and Scores" to "Investment Choices" and "Retirement Planning".
What I particularly appreciate about the study guide is that it tells you which chapters of which books correspond with each of the modules. That saves me from having to read the textbook cover to cover (ugh).
And once you cover these modules, you'll be ready for the…
Exam
The exam is, like all certifications, The Main Event. You pass; you're in the club. You fail; you're out (well, you can retake it for a fee).
The test consists of 165 multiple choice questions, 150 of which are graded (the other 15 are internal tests for future exams). Before COVID, you would attend a testing site, but I'm not exactly sure what they're doing now.
The reason why this section here is a little vague is because, to be honest, I haven't been focusing on it, or the Education aspect either.
My reasoning for this is purely pragmatic. The Experience Hours task is a bigger, tougher, and more time-consuming process than the studying could possibly be for me. And, frankly, one is a prerequisite to the other. If I don't reach 1,000 hours in the allotted time, then it won't matter about any of the other tasks.
In addition, I don't have a strong sense of when I'll reach 1,000 hours yet. It could be in a year, or it could be in two. I only want to start preparing for the Exam once I'm certain that I will obtain sufficient hours, and also know when that will be. That way I can focus.
I don't want to study for an indeterminant amount of time. I want to have a goal. I want to say, "I'm taking this test in six months." That way I can be ready, I can make a plan, I can do the same thing I do with my clients: Determine the goal clearly, and then work backwards from it to where you are.
Now I recognize that not everyone is going to have this same thought process. Some people have 1,000 hours coming right out of the gate. And also, some people fear standardized tests way more than I do. Perhaps this is me being a little cocky, but I'm confident that if I give myself a few months of concerted effort to study for this exam, I'll be fine.
So for right now, I'm focusing on the tasks where I'm less confident.
Ethics
Finally, the Ethics component is less of a task than of a declaration. As the official page says: "Counselors certified by AFCPE® pledge to maintain the following ethical standards:"
It then goes on to list a variety of eminently reasonable guidelines that, effectively, I'm already following. So there's not much to this one.
Same time, next year?
Over the coming year, my plan is to achieve the 1,000 hour finish line, and then I can start working in earnest on the exam.
I still don't know if achieving AFC® status will be directly helpful to my career in terms of my clients. I still have not yet found someone who wouldn't meet with me because I didn't have letters after my name. What matters, to me and to my clients, is results, and my testimonials (and my Google Review page) show that I deliver that today, and will continue to do so.
But I've learned a lot so far, and am enjoying the challenge of keeping myself current with the latest financial information, and accountable to someone other than myself and my clients. So far, it's totally been worth it.
Before I end, I want to give a shoutout to the online AFC® community created by the AFCPE to help aspiring and existing AFC® people connect with each other. I've found it immensely valuable, and I personally appreciate any group that isn't on Facebook. So serious gratitude there. When I find a group that only exists on Facebook, my thought is usually, "You Must Be Kidding, Right?"