You won't strike it rich, but for a few minutes of your time, a class action suit can be an easy payout, so it's probably worth it.
I got an email the other day from PayPal saying: "Your Mendez v. Avis Budget Group, Inc. et al. payment is now available in PayPal."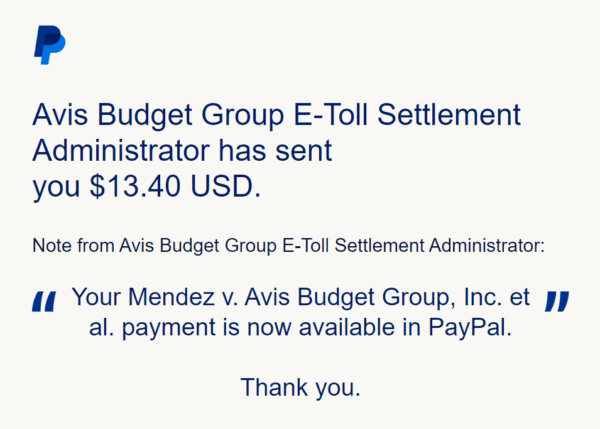 At first, I had no idea what this was. But then I remembered (vaguely) signing up for a class action suit a while back.
And sure enough, in my email history, there it was: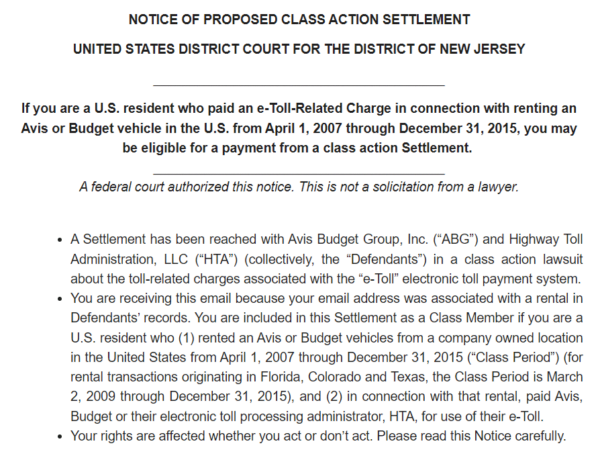 This is on the heels of an email I got a few weeks ago, informing me of receipt of around $35 in a Zoom class action suit. I had forgotten that I had signed up for that one too.
I've gotten plenty of payouts from class action suits before. None of them were very large, but pretty much all of them took less than 5 minutes of my time to enter, so I figured I might as well.
You might as well too.
What is a class action suit?
A class action suit is a lawsuit on behalf of a large number of plaintiffs. It simplifies the legal process for everyone involved, and when the single case is settled, everyone who signed on gets the settlement.
The largest class action suit ever was the The 1998 Tobacco Master Settlement Agreement by smokers against the tobacco companies. At $246 billion, it seems unlikely that it will be topped any time soon.
For practical purposes, a class action suit is a lawsuit that someone else is litigating on your behalf. You will be informed of this by email (occasionally by mail). These days, you will be given the terms of the deal, and a claim number, which you can then use to sign on to the class action (assuming you meet the terms).
There are usually some caveats, namely, that you waive the right to sue the company/companies separately, but generally speaking, these are probably not things you will be likely to sue over. (And if you are, just ignore the email.)
An example
Let's take that Zoom example. In 2021, I received an email with the subject heading: "Class Action Notice: Settlement of Zoom Privacy Litigation"
It said that because of privacy and security issues within Zoom, a settlement had been reached. And anyone who had used Zoom between March 30, 2016, and July 30, 2021 could be entitled to a cash payment.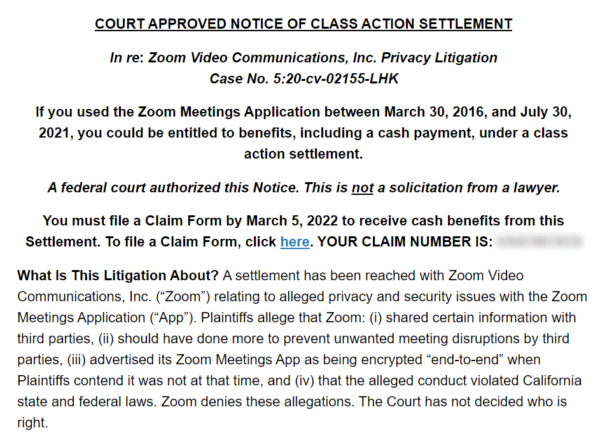 I signed up, and promptly forgot about it, which is exactly the right thing to do.
And 18 months later, I received $32.32 as part of the settlement. I could get the money by check or by PayPal. I chose PayPal.
It took about as long to claim the payment as it did to fill out the form in the first place. Not bad.
You won't get rich
Class action suits fall under the twin categories of "free money" and "picking up dollar bills on the street". I probably wouldn't stop to pick up a penny these days (not worth it), but I'll take $32 for 5 minutes of my time.
I imagine that you could get a little more active in your search for these things. For example, there is a site called that has a list of class action suits.
But to be honest, I don't think it's worth it to seek them out. Rather, if you read about a class action suit in the news, or if you receive an email about a class action settlement, I would follow up on those only.
You won't get rich with these things. But for so little work, I'm routinely surprised by how many people don't bother.
Watch out for scams
Now, obviously, watch out for scammers. If something looks dicey, do a search online for information on whether it's legit or not.
Also, you should never have to pay upfront for getting into a settlement. And never give your bank account information either. When in doubt, ask for a check to be mailed to you.
If something seems fake, it probably is.
Try entering a class action lawsuit settlement and see
I assure you, these things are simple and easy to do. And if they're not, I wouldn't bother. You just might make a few extra bucks.
Which reminds me, I believe I still need to file a claim for the most recent Google class action suit. This one is open to anyone who did a Google Search between 2006 and 2013. I'll let you take it from here.