Somewhere, someone at United Airlines is smiling.
Frequent flyer mile expiration is an easy way for an airline to make more money. It's a "currency" that the airline owns. They control how you use it, and if you don't keep track of it, it can expire.
But you can often reinstate those miles. For a fee, of course.
I'm embarrassed to say that this is exactly what happened to me recently. I had about 23,000 miles that I had been holding on to for a long time, and I just let them expire.
What a minute! Haven't I talked about AwardWallet on numerous occasions? Doesn't that service send out reminders to prevent just this sort of thing from happening?
Of course it does. But United decided not to be compatible with AwardWallet. You need to effectively manage your own expiration date, or forward your mileage balance emails to AwardWallet. Which I didn't do.
Like I said, someone from United is smiling.
How to reinstate United miles
There are three ways to reinstate expired miles on United:
Buy them back. With a fee depending on how many miles you want to buy back, you can pay for your mistake and be done with it. You don't have to buy all of your miles either; you can buy some of them, which might make sense if you're close to a price break.
Perform a reinstate challenge by flying United. For $100, you can fly a round-trip United flight within 90 days of payment, and get all of your miles back. That's probably best for someone with a whole ton of miles.
Perform a reinstate challenge by applying for a United credit card. Same $100 fee, but you need to get approved for a United credit card, and use it within 90 days.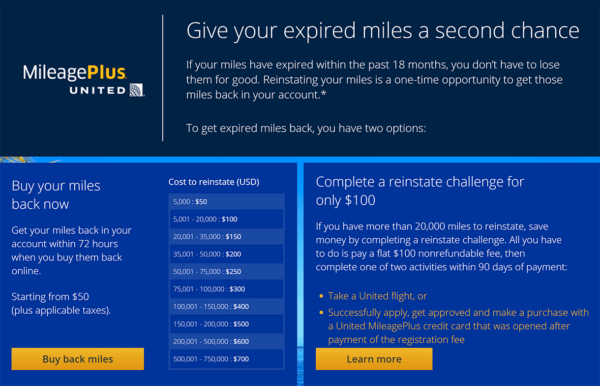 Like I said, I have about 23,000 miles. The cost to reinstate all of those is $150, but if I only bought 20,000 miles, it would be $100.
So I'm thinking that I would only buy 20,000 miles, at a cost of 0.5 cents per mile, as opposed to 23,000 miles which would be 0.65 cents per mile.
And what about a round trip on United? I could, but I don't have any plans to do that any time soon, and the cost would be much more than the $100 or $150.
And while there are United credit cards out there, do I really want to do that?
Is it worth it?
If someone asked me, "would you buy 20,000 United miles for $100" I would think it a good deal. Alaska, by contrast, routinely offers 10,000 miles for $200, which is four times as expensive.
But that said, if someone asked me to give them $100 for 20,000 miles right now, would I do it? Especially on an airline that I rarely travel on?
The miles that expired are quite old. I got them when I flew Emirates back in 2009. I originally banked that flight to Continental, which then merged with United the following year.
So clearly these are not miles I've been itching to use.
But still, miles are miles.
So what do you think? Should I buy "my" miles back and pay a penalty for my own mistake? Or do I treat those lost miles as its own penalty? I've got a few months to decide, so if you have any thoughts, please leave them in the comments below.
And if nothing else, I've since set up a proper system so that I don't let my United miles expire again.
Have you lost miles through similar means? What did you do?