Most of the time, we know where we want to fly. We want to find the right price, and we also usually have a little bit of play in the date and time.
But what about the times when you want to fly, you have a price limit, and you have a little date/time wiggle room, but you don't know where to go?
What, you've never experienced this? Why not?
Why would you do this?
This isn't an academic exercise. This is particularly relevant for those who are embarking on what is known as a "mileage run", or flying somewhere purely or primarily for the frequent flyer miles or other travel-based bonuses.
This is not insane. It can sometimes make a lot of sense, if by spending a little bit of time and money in order to earn something more valuable.
But there is also something beautiful and pleasing about traveling somewhere without any specific reason, letting fate and whimsy take you somewhere new and interesting. I've personally never gone to an airport and bought a ticket when I got there ("Good morning. What's cheap today?") but it sounds like it would be fun and a great experience. We could call it "Airport Roulette".
My mileage run
But for me, my interest right now is the mileage run.
I am 277 miles away from requalifying for MVP Gold status with Alaska Airlines, which comes with hundreds of dollars worth of perks, such as free upgrades to first class.

And since the flights have a minimum of 500 miles, I effectively can fly anywhere to do this. I could fly from Wrangell to Petersburg, a distance of 31 miles. If I wanted.
But I'm not quite near that area of Alaska, lovely as it is.
Kayak
So how would one do a search of where to go?
A standard tactic is to use Kayak's excellent Explore feature. You type in a starting airport, and a rough timeframe, and you will get a map of prices to various destinations.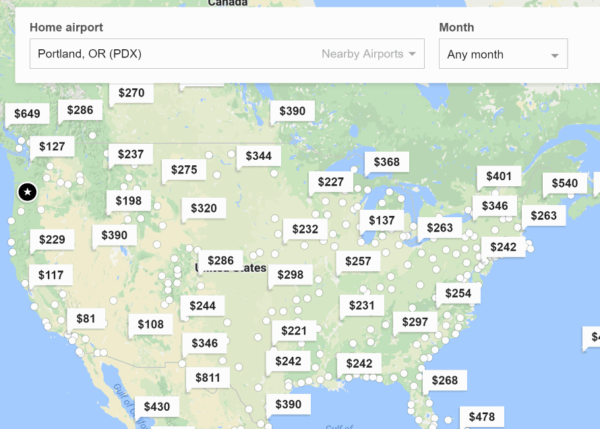 This is a great tool, but I find it lacking in one key feature: it only shows you what other people have searched for. If you're wondering about an obscure destination, or at a time far off in the future, it may have nothing to say.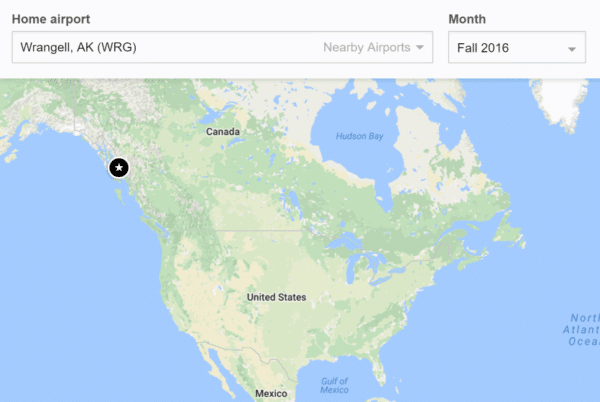 Enter the Matrix
Enter ITA Matrix, the supercomputer of flight searches.

At its heart, it looks like a nerdier version of Kayak or other search engines. And true to form, it offers a galaxy of options. (Dive deeper into the Matrix.)
For our purposes, we can do a simple search:
And get some results on a calendar, one month at a time. (Compare that to Kayak, which can only do three days in either direction.)
We have the ability to filter by airline or alliance. Since Alaska is what I care about, I'll add the "C:AS+" identifier under Advanced routing codes, which will search any number of legs on Alaska only.
But then we can add more airports, and all of them will get searched on the whole month of options. That's a lot of options.

But why stop there? There's an ability to add "nearby" airports. I could pick from airports within a 75 mile, 100 mile, all the way up to a 2000 mile radius! Note that the latter search radius includes Fairbanks, AK, Houston, TX, and Tijuana, Mexico.
Why not? I'll search all of them!

In this search, I searched over 50 airports over the course of 30 days. And remember that this is only a one-way flight I'm searching for in this example. A round trip example would search every combination of outbound and inbound flights.
Damn.
Now, in this case it turns out that the cheapest flight is a $55 special between PDX and Ontario (the city in California, not the Canadian province).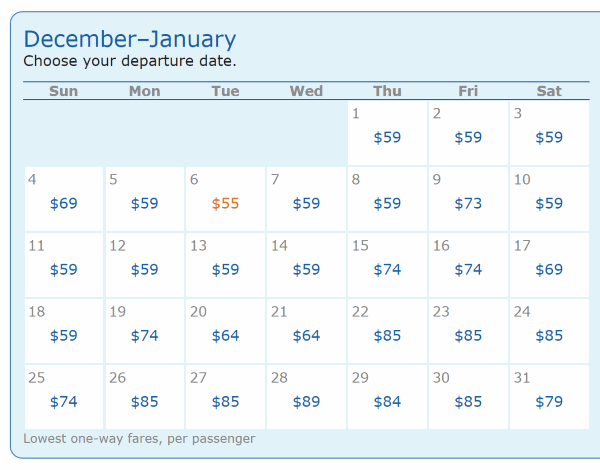 Now, in my particular case, it makes sense for me to just fly to Seattle, as I can take a cheap bus back to town. (Remember that I only need one leg.) Though if I needed a round trip, perhaps I'd be on my way to Ontario soon! (What would I do in Ontario? Who knows! That's part of the fun.)
So while it looks like I'll be planning a quick trip to Seattle, it's piqued my curiosity about what other unintentional travel I could be doing in the year or years ahead. While planning (or at least anticipating) a trip is one of the most enjoyable aspects of travel for me, I am excited about the idea of going somewhere where I previously knew nothing, and just seeing what happens. When it comes to travel at least, not everything is better when it's intentional.
Happy searching!