The standard way to reenter the US when flying is as follows:
1. Check in
2. Go through security
3. Fly
4. Go through customs
What this means, in a practical sense is:
1. Wait in line
2. Wait in line
3. Sit in chair
4. Wait in line
But what if we could rearrange these items? You know, to get all of the waiting in line out of the way beforehand?
Enter US preclearance.
This article will talk about my experiences with this odd procedure, in order to help explain it should you ever encounter it.
Getting on before you get on
The purpose of US preclearance is to "streamline border procedures, to reduce congestion at ports of entry, and to facilitate travel between the preclearance location and U.S. airports unequipped to handle international travellers."
Basically, by getting all of the customs stuff out of the way beforehand, the flight can arrive just as if it were a standard domestic flight, with you deposited in the normal facilities. In this way, an international flight could land at a "domestic" airport if desired.
Sounds neat in theory. That being said, a more cynical person would say that it allows the US to keep out people who they don't want there before they get there, as opposed to the inconvenient and expensive process of sending them back. It's actually not all that cynical though, considering that the plans to extend this to more airports is being driven by the TSA.
But for us, it means that you get all of the waiting in line out of the way.
The cities that that have US preclearance, at the time of writing, are
Canada

Calgary (YYC)
Edmonton (YEG)
Halifax (YHZ)
Montreal (YUL)
Ottawa (YOW)
Toronto (YYZ)
Vancouver (YVR)
Winnipeg (YWG)

Caribbean

Aruba (AUA)
Bahamas (FPO and NAS)
Bermuda (BDA)

United Arab Emirates

Abu Dhabi (AUH)
Dubai (DXB)

Ireland

Dublin (DUB)
Shannon (SNN)
According to Wikipedia, Ireland has had prelcearance of some sort since 1986. What the article doesn't say, and what I haven't been able to find anywhere, is why. I mean, Canada is so close, and Canada is nothing but terrorists of course, but Ireland? Why them?
(Here is a Quora page which posits a few ideas, but none seem satisfactory to me.)
My experiences
I had never been through a preclearance facility, so I was curious to see how it worked. Here is what happened.
Step 1: Check in and freak out about the boarding time
They recommend getting there three hours in advance. How accurate is that figure?
I showed up at 9:30AM. My flight out of Dublin was at 11:50AM, so I was definitely surprised to see on my boarding pass that "boarding" began at 10:05AM. Wow, what are we boarding, the space shuttle?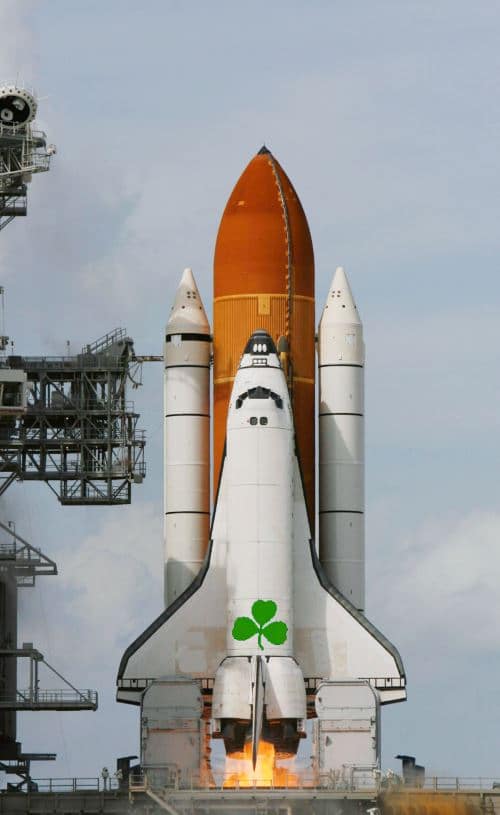 When I dropped my bag off, and saw my physical boarding pass, it was even crazier, and said that the "Gate Closes" at 10:05AM. What the hell? Had I already missed my flight?
Step 2: Go through security
There was nothing out of the ordinary about this part; it was just standard European security procedures. By this I mean, intrusive and unnecessary, but not completely farcical (viz, no removing of shoes, and none of those stupid millimeter wave stand-like-you're-being-arrested machines that I always opt-out of.)
This lets you into the part of the airport where you normally find your gate. But with preclearance, you're not done yet.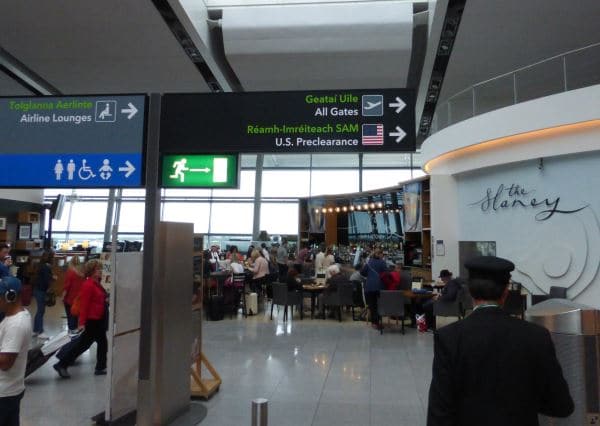 You then enter the preclearance section and…
Step 3: Go through security…again
I admit, this confused me. Didn't we just do this? But then again, I guess the first time was Irish security and this one was US security. So, sigh, here we go again.
Step 4: Customs
This is what we've all been waiting for, the whole purpose to the madness. Stand in an interminable line and get grilled by a customs officer about why you were so foolish and reckless as to have left the greatest nation on God's green earth. Or something.
Here is the line as it was (sorry it was blurry; they don't like photos in this area).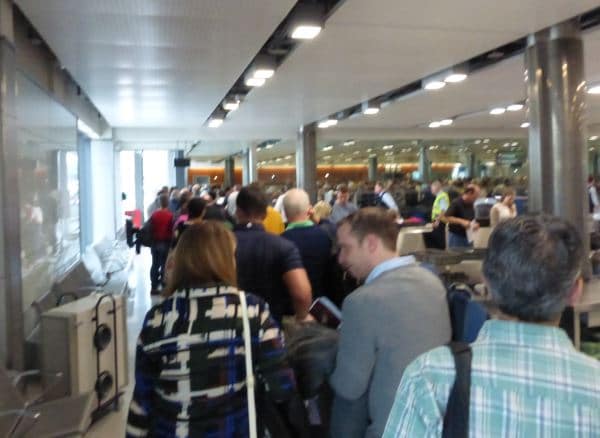 This entire line led to the right, while there was an empty space by the left wall which was the Global Entry line. Or rather, the not-line, as there was no waiting at all.
I've talked about Global Entry, the trusted traveler program I signed up for last year when I got my NEXUS pass. Even if you rarely travel, I can't recommend this service enough.
Why? Because I was through in five minutes.
Afterward, I asked a couple who had gone through the line the long way how long they had been in there. They said somewhere on the order of 30-45 minutes.
Step 5: Fly and leave
And the best part? Once I landed, I was good to go. Nothing more to do than collect my luggage and go.
Timing
So, I personally entered preclearance at 10:45, well after the 10:05 as indicated. But if I hadn't had Global Entry, I would have wanted to enter at around 10:05, the time as indicated on the boarding card.
So on balance, the "three hours" recommendation is actually spot on, in this case. Unless you have Global Entry, which you really should get.
Slán abhaile!
But enough about me. Have you ever been through a US preclearance facility? How was it for you?